Most of us are now wishing to break free from the monotony of the lockdown and start afresh, all over again. However, travelling is going to be very different in 2020. At airports, we will have to undergo thermal checkings at entry and exit points. Also, availing other public transport facilities like trains and buses can be very risky with the pandemic in place. According to a recommendation of the Centers for Disease Control and Prevention (CDC), the safest mode of travelling in 2020 is solo driving. And that's why a road trip can be a great idea to beat the quarantine blues after lockdown. So, once travel becomes safe again, you can simply pack your bags, take out your car ( or rent one), hit the roads and escape away. We've found out 10 amazing road trips that will let you cover almost the entire country. Read on!
1. Delhi To Rajasthan
The best place to start this road trip is none other than Delhi. The capital city of Rajasthan, Jaipur is only about five and a half hours away from Delhi. From Jaipur, you can drive up to a slew of other historic places like Pushkar, Ajmer, Jodhpur, Jaisalmer, Udaipur and Mt. Abu. If you've got a strong inclination towards the things of the bygone era, this road trip is apt for you. It will take you through marvellous royal havelis, palaces, temples, ancient villages and the sweeping desert. You will also get the hang of delicious local delicacies of Rajasthan while on this breathtaking road trip. Since the temperatures are high here, the best time to take this road trip is during the winter months, from November to February. Keep at least 12 days in hand so that you can cover all the places of the historic state.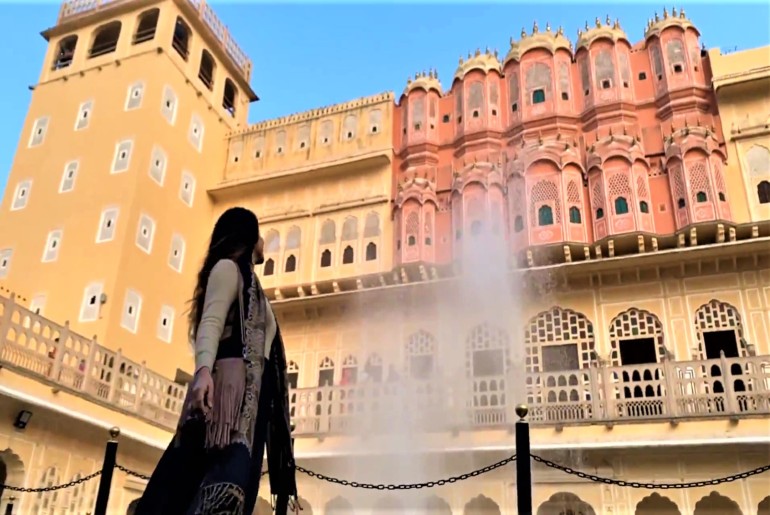 Duration | 10-12 Days
Distance Covered | 2400 km
When To Visit | November-February
Also Read: We Bet You Didn't Know These Crazy Facts About Jaipur's Iconic Hawa Mahal
2. Delhi To Spiti Via Rishikesh And Auli
If mountains are your calling, then you must take a road trip to Rishikesh to ditch all your stresses. The best route to reach Rishikesh from Delhi is NH334.  It takes about five hours forty minutes to reach Rishikesh from Delhi. The 235-kilometre journey from Delhi to Rishikesh via NH334 will cover Meerut, Muzaffarnagar, and Haridwar. Once you're at Rishikesh, you can wallow in activities like river rafting and bungee jumping, before proceeding towards other picturesque hill stations like Dehradun, Mussorie, Chakrata, Auli, Kinnaur and Spiti. The route from Kinnaur to Spiti is extremely narrow and rugged at places. It usually remains closed till May. You'll need at least a week to enjoy this hilly road trip in full throttle.
Duration | 10 Days
Distance Covered | 1400 km
When To Visit | March-September
Also Read: Highest Bungee Jumping Point In Rishikesh
3. Siliguri To Sikkim Via Darjeeling
To take this road trip, you must start from Siliguri in West Bengal. To reach Siliguri, you either need to take a flight to Bagdogra airport or a train to the New Jalpaiguri station. From Siliguri, you can drive up to Darjeeling, the marvellous town on the foothill of the Himalayas. After spending a couple of days out here, you can head over to Sikkim to cover places like Pelling, Ravangla, Buddha Park, Gangtok, Tsomgo Lake, Lachung, Nathula, Zuluk and Nathang Valley. On your way back, you can take a breather at Kalimpong before proceeding towards Siliguri. While travelling through the zig-zag road of the old silk route going up to the mountains, you'll see long expanses of snow, and after reaching the higher altitudes, you'll be literally driving 'above the clouds'. Also, you'll spot many sparkling lakes and waterfalls on the route. The best part about this trip is that it will give you the opportunity to feast your eyes on the third highest mountain in the world, the Kanchenjunga.
Duration | 10-15 Days
Distance Covered | 800 km
When To Visit | May-Nov
Also Read: Nathang Valley Atop Sikkim Is Known As The Ladakh Of The East
4. Guwahati To Shillong Via Tawang, Kohima And Cherrapunji
A road trip from Guwahati to Meghalaya's Shillong takes just about three hours through the NH6 route. It is one of the most scenic routes in the North-East and it will take you through deep gorges, lush green flora, terraced plantations and lively streams. Some noteworthy places that fall along this route are hilly villages like Jorabat and Mawlai-Mawiong, Nongkhyllem Wildlife Sanctuary and Umiam Lake. While this one is a shorter route, if you have more days in hand ( like about 12 to 15 days), you can take an alternative longer route. And this two-week trip will let you cover about eight scenic destinations in North-East India at one go. You need to start from Guwahati and proceed towards Tawang. After taking a halt at Tawang for two days, you can start for Kaziranga, then Majauli, followed by Kohima, Haflong, Dawki, Cherrapunji and finally Shillong.
Duration | 10-15 Days
Distance Covered | 2000 km
When To Visit | March to October
Also Watch: I Love My India Episode 1: Reaching Meghalaya
5. Delhi To The Valley Of Flowers, Uttarakhand Via Landsdowne
Want to soak yourself in the charm of fragrant flowers, right in the lap of mother nature? A road trip to the Valley of Flowers in Uttarakhand's Nanda Valley will come to your rescue. You need to start from Delhi and travel through Landsdowne and Chopta to reach the heavenly valley in the Uttarakhand's North Chamoli district to get the glimpse of the host of endemic alpine flowers like bellflower and morning dew. The place is also home to majestic animal species like snow leopard and grey langur. From the Valley of Flowers, you can drive a few more kilometres to cover Almora and Ranikhet. You can wrap up your trip by taking a rest at Nainital for a day before returning back to Delhi. The Valley of Flowers opens for a very short time and the ideal time to take this trip is from May to September.
Duration | 7-10 Days
Distance Covered | 1200 km
When To Visit | May-September
6. Delhi To Ladakh Via Srinagar
Here's one route that will take you to the Switzerland of India, and that's Kashmir. It is the highest motorable route in India and is already much popular among the bikers. If you happen to be road trip enthusiast, the Leh-Srinagar route is already on your bucket list, we know. You can start off from Delhi and drive through the snow-covered hilly alleys of Jammu, Srinagar, Kargil, Ladakh and Manali. Thinking about when it is best to take this road trip? Well, it's from May to November. You need to take an off of at least 12 days for this trip.
Duration | 12-18 Days
Distance Covered | 2500 km
When To Visit | May-November
Also Read: You Can Actually See Two Rivers Meet At Ladakh's Zanskar-Indus Confluence
7. Siliguri To Bhutan
Got an Indian passport? Then you won't need a visa to travel to Bhutan. It will just take a week from Siliguri to reach Bhutan by road. After completing the trip, instead of coming back to Siliguri, you can proceed towards Punakha and then make your way to Guwahati. While on this road trip, you'll be able to trek Bhutan's most popular destination. the Tiger Nest.
Duration | 7-10 Days
Distance Covered | 1000 km
When To Visit | October To April
8. Chennai And East Coast Through The Pamban Bridge
We've talked a lot about the mountains. The route from Chennai to Yelagiri will let you bask in the beauty of the sprawling beach from the Pamban Bridge.
While journeying on this route through Mahabalipuram, Pondicherry, Pichavaram, Rameshwaram, Kanyakumari, Munnar and Yelagiri, you will get mesmerized by the grandiose of the turquoise waves of the Indian Ocean, along with the stunning sunsets.
Duration | 10-15 Days
Distance Covered | 2000 km
When To Visit | November to February
9. Kolkata To Mandarmani
A lesser-known, yet captivating road trip is the one from Kolkata to Mandarmani. The shoreline of Mandarmani is clean and widespread. You'll spot a good number of snails and crabs while walking through the sandy beaches. There are numerous nearby beaches from Mandaramani, noteworthy among them are Tajpur and Digha. You can also enjoy an exhilarating ride on a banana boat when you travel to Digha.
Duration | 7-10 Days
Distance Covered | 600 km
When To Visit | November-February
Also Read: Curly Tales Takes You On A Virtual Tour Of Kolkata
10. Agonda To Chikmagalur Via Gokarna, Coorg, Wayanad And Alleppey
If you want to cover forests, mountains and beaches, all at once, then this is one route you must swear by. From tranquil shores of Gokarna, Udupi and Kovalam to the Backwaters of Alleppey, enchanting ghats and lagoons, this magical road trip has it all. You need to begin at Agonda, Goa and drive through Karwar, Gokarna, Udupi, Coorg, Wayanad, Alleppey, Kovalam,  Kodaikanal, Ooty, Mysore and Chikmagalur to make this trip worthwhile and memorable.
Duration | 10-15 Days
Distance Covered | 2500 km
When To Visit | November to February
Also Read: Why Andaman's Radhanagar Beach Better Than Maldives?
Good days will come soon and the road is awaiting you. Are you ready?