I am Juhi Sachdeva, a fashion stylist and a faculty member by profession. One day at work, bored of everything around me, I started browsing about new places, checking ticket prices like every budget traveller and hitting on permutations and combinations of dates as to find the cheapest day to travel. I always wanted to visit Singapore, though I had travelled to Hong Kong, Thailand and Australia. It had been a long time since I visited a commercial city in 3 to 4 years. And I decided to explore the gorgeous destination with my girlfriends. So here's my 8-day all-girls trip to Singapore in ₹75,000 per person.
Also read: The Best Places To Go On A Scenic Walk In Dubai
Planning My All Girls Trip To Singapore
My explore ninja is not just restricted to places, but window displays, designer collections, intricacy and style. Every person on this earth has a hobby. Mine was to check ticket prices, budget hotels and what places I want to go. It gave me so much peace and sanity to just know about the history of these places. I started discussing this with all my girlfriends about the trip. And after a lot of effort, 7 girls were ready to go. These are the Top 10 Stunning Destinations Around The World To Travel With Friends
Budget Breakup of My Singapore Trip
I booked Air India flights, 2 months in advance for ₹20,000. The stay at Bintan Lagoon Resort cost me ₹3000 for 2 nights. The basic Dream Cruise room cost me ₹20,000. And 4 nights at V Hotel Bencoolen cost me ₹10,000. Our overall trip amounted to around ₹75,000 per person including flights, accommodation, transfers, visa, food and travel expenses.
Also Read: Madhav Bagga Travelled To Thailand, Singapore And Malaysia All Under 35k (AED 2000)
The budget can be altered depending on hostel accommodation or a luxury one. Our trip was scheduled in the month of August which is an off-season time. So, the air tickets were quite reasonable. Singapore has its peak during summer and winter holidays, which means expensive trip and crowded places. Bintan has some other properties as well which are less in the budget, but Singapore hotels are expensive. It would be better if the booking is done well in advance.
Deciding On Places We Wanted To Visit In Singapore
We added Bintan Island and Cruise to make the most of our journey, considering gathering 7 best friends isn't an easy task. We made an 8-day trip to have experience the island, cruise and city life. My first ever all-girls trip, 7 girls, crazy for shopping, eating, exploring, wanting a break from their jobs, nothing could have been better. Our adrenaline rush had already started at the airport.  The crowds could see our wild joke laughter, but nothing stopped us. So we went for an 8-day all-girls trip to Singapore from August 28 to September 6, 2018, in ₹75,000 per person. We boarded our flight and thankfully it wasn't full. It was a smooth 5-hour sleep for us all.
Also Read: 8 Best Places In India For That Ultimate Girls Trip
Day 1: Reaching Singapore & Checking Into The Resort
We landed at Changi airport around 7 am and took the free shuttle bus from the basement to Tahah Lot Ferry Terminal to catch our ferry to Bintan Island, Indonesia.
It was approximately a 2-hour ride where they had snacks and drinks to offer too. The best part of going to an island like Bintan, Indonesia or Macau, China is that millions of tourists visit these places every month. The hotels have free shuttle buses to and fro for the Ferry Terminal and the airport. Bintan was beautiful, we witnessed the scenic beauty on our 40-minute ride to the hotel.
We booked a weekday stay so the hotel was less crowded and our transport was also empty. So we had the room to ourselves. We checked in to the Bintan Lagoon Resort in the Angsoka Villa, for 2 nights. Our meals were included in the package which was the best part since there is nothing close to the hotel under 20 km. The first day at Bintan, we had a barbeque dinner inside the villa. And since we were dead tired, we hit the bed early. Singapore Makes Paid COVID-19 Tests Compulsory For Incoming Travellers.
Our villa had 4 bedrooms, kitchen, lobby, lounge, balcony and a pool. We spent our time talking, listening to songs, applying mudpacks and just being in the pool all day long. This place is perfect for a group of friends, family and bachelor parties.
Though we took the biggest villa, they have 2 more villa categories for smaller groups or nuclear families and even hotel rooms too. Our first day passed just by the beach and the hotel pool. And dinner was served at the villa.
Since we were sleep-deprived the first day, we dozed off on time so to wake up early and start our day afresh. Let's just say you can never run out of reasons to visit Singapore. 
Day 2: Exploring Bintan Island
Well, the next morning started off quite fresh, it seemed like we had the best sleep ever. The view from our balcony with the ocean connecting to the sky was breathtaking. Our villa was far off from the hotel lobby. So the whole villa section in the hotel has its own battery-operated buggy to take a tour across the property.
Also Read: I Travelled With My Daughter To Singapore And I Urge All Moms To Travel With Their Kids At Least Once
We went to have breakfast, took a walk to the hotel property which was full of picturesque views. After we came back to the villa, we chilled by the beach. Later that very night, we visited the hotel night club which was literally empty but the music made our stay and all the girls had their share of fun.
Visiting Bintan island is a great deal if anyone wants to visit with a group of friends or just couples. We booked a weekday stay, the weekend stay is a little expensive. We felt like the hotel just belongs to us, so it was perfect.
This island might not be the most happening place for people who want to explore the place. Because the hotel properties are far off. And there is a small market which is situated 45 mins away. It had just basic clothing and convenience stores. Also, the hotels have free shuttle rides across island tours or market visits. But it has specific pick up and drop timings.
Also Read: I Travelled To 18 Cities And 9 Countries In Europe For 52 Days In ₹80,000 Including Airfare
Day 3: Sailing Through Singapore Aboard A Luxurious Cruise Ship
This day started off early. We booked a free shuttle from our hotel to the Ferry terminal which took us to Singapore again. From there, we booked our shuttle again for the Marina Bay Cruise Terminal. We commenced another journey of sailing across the High Seas. We took a 2-night cruise which started off around 5 pm so we had to report at the terminal at 1.30 pm.
I always wanted to sail on a cruise. And since we were restricted to our budget, we chose the smallest duration to set the vibe of it. Our rooms were of the basic category, the smallest rooms I could ever imagine while travelling. Hardly 2 people could fit in, but we managed somehow. So our cruise was a newly renovated version of Star Cruise. It was taken over by Dream Cruise. The fittings, the detailing, hallway, interiors and everything was spot on. Did you know You Can Soon Cruise From Mumbai To Bali With Stopovers At Goa, Kochi & Andamans?
We had so many shows to look up to.  We opted for salsa classes, shopped and enjoyed unbelievable discounts. And the cruise had a lot of kids friendly zones too. The moment we entered, it was time for our meal. It would be difficult to describe the variety of food made available. All cuisines, drinks and the desserts, spare me if I sound hungry. Later at night, getting into our pyjamas, we jammed at the cruise balcony on our floor, played fun music and heard the sound of waves going by. It was pure bliss to be just surrounded by water.
Day 4: Spanish Dance Session With Girls
Well, the jamming session went on till late, so we all woke up quite late and realised we skipped breakfast. So we directly had lunch and now was the time to enjoy the cruise. We went to the pool and water slides. It all felt like we were kids again.
Clearly no one wanted to step out of the water after 3 hours. Getting ready for the salsa classes now, we had an amazing session taken by some great Spanish dancers and volunteered by so many dance enthusiasts. It clearly was a stress buster. Our cruise trip was definitely worth it. Meeting people from different nationalities, chilling, hopping on the deck both nights, surrounded by water around, it luxury at its finest.
Day 5: Roaming Around Beautifully Lit Streets
It was now time for us to get back to the city and check in to our hotel at the Bencoolen street. Singapore is an expensive city in general. We preferred a 3-star hotel as it was right next to the MRT and the bus stop just across the street. Convenience store like 7/11 is 10 steps away. There was also a really cool night street just 500m away.
Our hotel was also next to the famous fashion college NAFA. So,  me and one my friend coming from a fashion background just sat on the bench and saw street style fashion for hours. And was truly a delight!  In general, Singapore is quite happening in terms of fashion.  We kept the first day casual. We strolled along the streets, went cafe hopping and just enjoyed the city lights.
Day 6: Unleashing Our Inner Child At Universal Studios
It was time to visit Universal Studios and well, what an experience it was! We were a group of happy girls that were making every moment of our life here count.
Our visit was solely to be children again. We were 7 girls going crazy on the roller coaster rides.   Let me tell you, it was exhilarating.
And having a giant-sized pizza is just what we wanted. It was delicious and we couldn't help pouncing on it.
We even posed with Hello Kitty! And our smiles couldn't get wider, as we hopped around going on adventurous rides, gorging on delicious snacks and having the times of our lives. After all, girls just wanna have some fun right!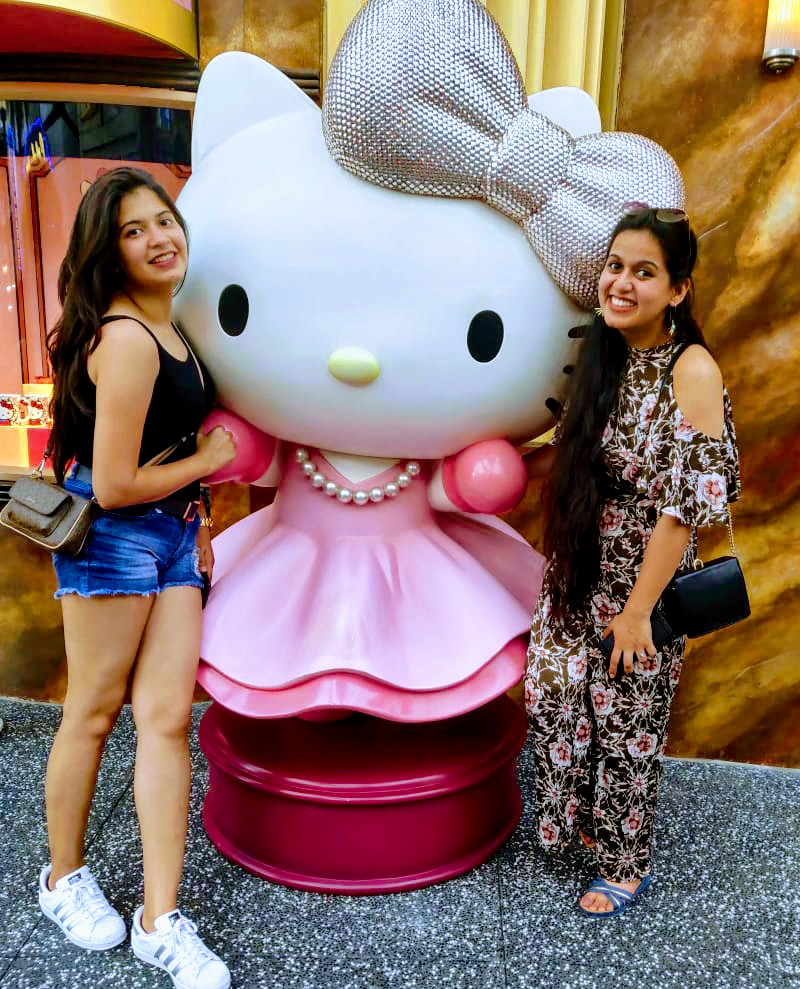 This place is full of colours and a great vibe, and it just doesn't have rides but so many shows, museum and some souvenir shops too. Going to Universal is easy by MRT via Sentosa station. Cabs charge a higher price and if we have the Go card we hardly get charged a dollar for a one-way ride.
Day 7: Visit To The Iconic Marina Bay Sands
The next day called for a visit to the iconic Marina Bay Sands. And everything about it was just so perfect. Seeing the Merlion from a distance, the musical show, taking a walk by the deck felt like a panoramic treat.
Later that evening we took our stroll to Gardens by the Bay and what a stunning man-made beauty it was! Being fashion students, my friends and I also visited the Marina Bay Mall to explore the window displays and visuals of the stores. It was so much fun. Did you know Singapore's Changi Airport Is The World's Best Airport?
Later that day we visited Clarke Quay, a very happening nightlife experience. There are a number of pubs and cafes playing great music and soothing tones by the waterside. On weekdays they offer great deals and discounts on food and beverages.
Also Read: 10 Precautions To Take While Planning A Road Trip Right Now
Day 8: Shopping At International Merchandising Mart Mall
On our last day, we became shopaholics who chose to shop at the IMM (The International Merchandising Mart) Mall at The Jurong East, approximately an hour ride by MRT from Bencoolen St.We got some amazing discounts there. Orchard Road is the place to shop for the newly launched collection and expect no great deals out of it. It has some beautiful cafes and restaurants to grab a meal too.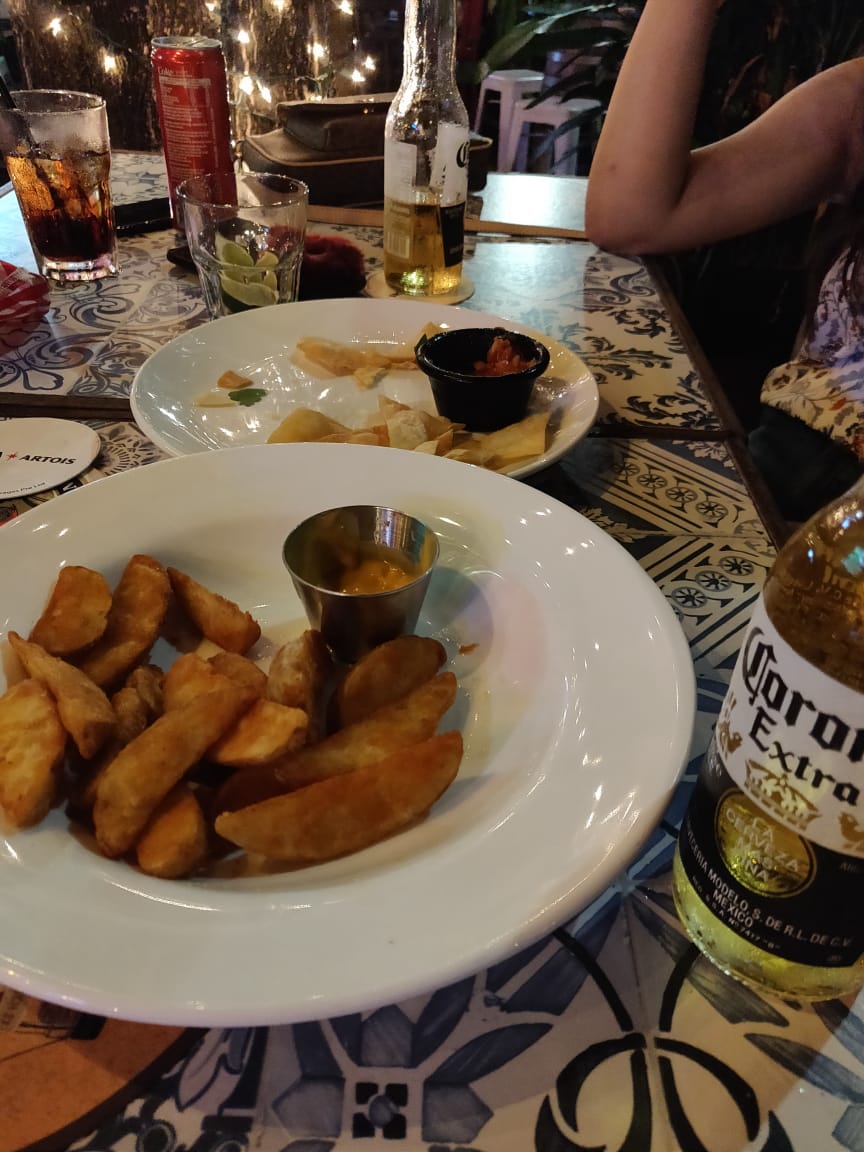 Summing up my whole experience about the city, Singapore is or can be a go-to city for you. The MRT/bus routes are easily available on your google maps once you type the location. We mostly took the MRT, as it was cheaper than buses.  But, late at nights, you can always travel by cab and since we were friends sharing our own expenses, it didn't hurt much.
The locals are very nice and helpful, they all understand English, they won't misguide you. So, it's safe for everyone. Singapore is kids friendly, a little expensive, but totally worth the experience. My girls and I fell in love with Singapore. So I'd definitely suggest all you girls to take your best friends to Singapore. It's definitely one of the best places for an all-girls trip. 
This article was contributed to Curly Tales by Juhi Sachdeva. If you have an article or similar experience to share, do write to us on hey@curlytales.com