Holidaying with bae is too mainstream! But a journey to a far-off destination with your girl-gang, that doesn't happen often, ain't so? Gossipping for hours about people, getting dead drunk and indulging in mischiefs on the beach, or shopping at the iconic markets till the legs hurt, all these are best enjoyed only with our girlfriends. If you too are of the same opinion, then you must call up your girls right now and plan a trip to one of these 8 destinations in India. After all, why should boys have all the fun?
1. Goa
If you're bored with the ladies nights in your city, Goa will come to your rescue. After all, it is the best place in the country to party with your besties. And what can be better than a groupfie with them on the beach wearing those comfy swimsuits ( no one's going to judge your dress in Goa) while sipping some sassy sundowners? From getting lost in the vibes Palolem's leopard party to shopping at Mapusa's Friday Market, this Goa trip will definitely turn out to be a memorable one for y'all. What's more, you can swim at one of the best infinity pools at Goa's Alila Diwa.
2. Meghalaya
If you want to take repose on the lap of nature with your girls, Meghalaya can be a great choice. Meghalaya is an all-year-round tourist destination, where the summer welcomes you with spring festivals, the monsoon with its intense greenery and the winters with its blanket of fog and low temperatures. You can visit the Nartiang Monoliths in Jaintia Hills, the splendid Krang Suri waterfalls, the double-decker living root bridges, the Krem Rupasor caves or enjoy hot-air ballooning through the countryside at Jowai. Also, the road trip from Guwahati to Meghalaya will take you through deep gorges, lush green flora, terraced plantations and lively streams.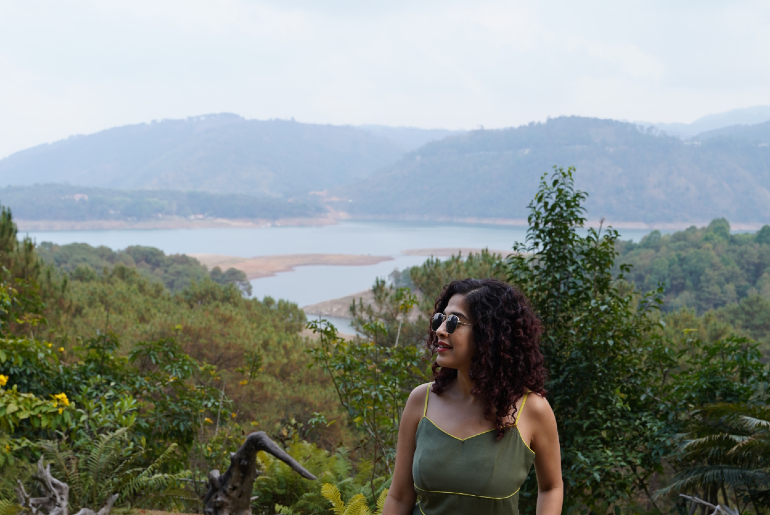 3. Rishikesh
If somebody told you that adventurous activities are a man's thing, time to prove them wrong! Head over to Rishikesh with your girls to enjoy oodles of thrilling activities like river rafting, bungee jumping, ziplining, rock climbing, cliff jumping, zorbing, rappelling, paragliding and loads more. The highest bungee jumping point in India is also in Rishikesh.
Also Read: Ditched By Friends, I Travelled To A Yoga Retreat In Rishikesh Solo And It Was The Best Decision Ever!
4. Pondicherry
Planning to visit France with your girls for long? Why not go #vocalforlocal hit up the French Quarter in Pondicherry instead? The quaint houses in warm pastel colours, the clean alleys and the picturesque cafes out here will win your hearts for sure. You can even pose with your trendiest dresses on the pretty streets to get the best pictures for your social media feeds. Doesn't that sound super cool? You can even relax with your buddies on the Promenade beach. On that note, here's a detailed travel guide from Mumbai to Pondicherry.
5. The Andaman Islands
Lofty palm trees, long stretches of white sand, crystal clear emerald waters and coral reefs! No, we're not talking about Australia or Maldives. It's Andaman, girls, on the majestic Bay of Bengal. Cruise through the ocean waters to reach one of the best beaches in India, the Radhanagar Beach in Andaman's Havelock Island. If you want to detach yourself from the commotion of the city with your gang, then definitely visit this beach at least for once. Also, the watersports centre out here gives tourists a chance to hire snorkelling, scuba equipment and boats at inexpensive prices.
6. Coorg
The sacred groves, the smell of coffee beans, the lush green forests and mighty hills, you can experience it all at Coorg, Karnataka. There are many unconventional forest camps amid the mountains, like the Coorg Planter's Camp, where can you and your girlfriends can stay for some time, in the midst of Coorg's famous coffee and cardamom plantations. You can also experience the roaring currents through the Barapole River and feel the adrenaline rushes running through your body.
6. Mizoram
The dainty state in the southern tip of north-east India can be a remarkable place for your girls trip. The steep rocky cliff with golden grass swaying on one side and the virgin forests on the other, at Mizoram's Reiek Tlang will mesmerize every bit of your soul. If there's a bookworm in your group, she will be definitely bowled over by the cutesy roadside library at Aizawl. Mizoram is not just a picturesque destination, the people out here are welcoming too.
Also Read: Mizoram Has Shops That Run Without Shopkeepers
7. Hampi
Are you all history buffs and have a love for things of the bygone era? Then Hampi in Karnataka is your go-to place. The village of Hampi has many historic temples and architectures from the Vijayanagara Empire, and their beauty will leave you utterly spellbound. Near the Hampi bazaar, on the bank of River Tungabhadra, lies the 7th-century spectacular Virupaksha Temple. Hampi also bagged the second rank on New York Times' 'List of Places To Go'.
Also Read: My 3-Day Budget Trip Itinerary To Hampi With Friends Under ₹15000 Per Head
8. Jaipur
If your girl gang has a fetish for traditional styles, Jaipur's Bapu Bazaar and Johari Bazaar must be on your list for pretty dupattas, chic silver jewellery, ethnic attires and a wide variety of stylish juttis. Also, did you know that Jaipur is now listed among world's 50 most beautiful cities? The Pink City, Jaipur is home to a large number of marvellous forts, gorgeous palaces and magnificent temples. These historic architectures, along with the vibrant culture of Jaipur, attract tourists from all over the world. Be it the 300-year-old Hawa Mahal, the grandiose Amer Fort, the City Palace or the Nahargarh Fort, each and every place within the city will take you by awe. Also, at Jaipur, you can ride on the pink e-rickshaws driven only by ladies.
Also Read: Taste Royalty At The Gogunda Palace In Rajasthan
So, once all this is over, you can ditch your boyfriends for some time and escape away with your girls on a road trip to an amazing destination. Also, here's a road trip packing list post-COVID-19 to make your lives easier. For now, enjoy these mind-boggling international experiences in India from the comfy of your couch: