Mangroves are a well-known feature of the emirate of Abu Dhabi. Every year, thousands of tourists go to Abu Dhabi to go mangrove kayaking in order to see some of the region's native flora and fauna. Abu Dhabi now has something new to look forward to with the opening of Jubail Mangrove Park. If you roll the dice, you'll be able to go into the mangroves and have a close look at them.
The brand-new Jubail Mangrove Park in Abu Dhabi is jam-packed with fun activities for visitors of all ages. Everything you need to know about the capital's newest attraction and the park is right here.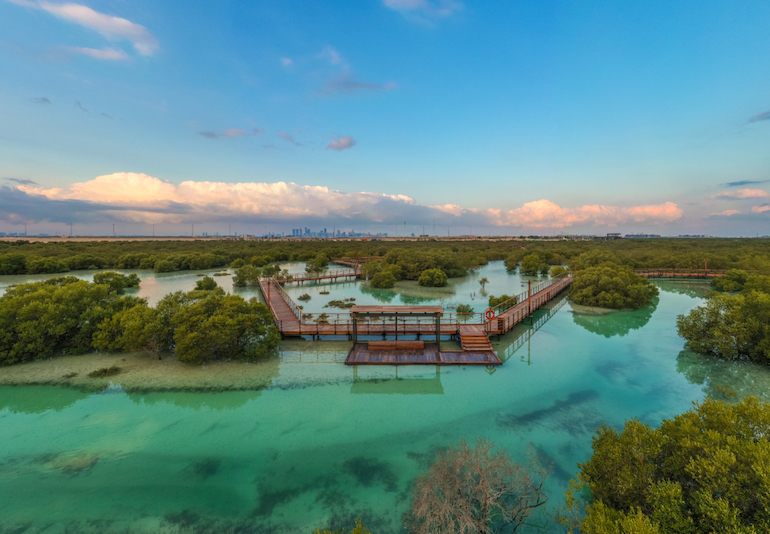 What Is So Intriguing About This Island Park?
The Jubail Island Mangrove Park is a one-of-a-kind natural, educational, and recreational amenity near the capital. A diversity of marine life and avian species local to Abu Dhabi can be found in this natural mangrove reserve.
The park aspires to instil in us a sense of the value of mangrove ecosystems and habitats. It also encourages people to understand why their conservation is critical for the preservation of the Abu Dhabi Coastline's biodiversity. If only there was a way to learn that was much more environmentally friendly!
The boardwalk is the main attraction at Jubail Mangrove Park. The Abu Dhabi Jubail Mangrove Walk takes you through extensive mangrove environment. The mangrove reserve in Abu Dhabi, which spans over one million square feet, is located within the confines of Al Jubail Island. The presence of Yas Island, which is highly adventurous, and Saadiyat Island, which is tranquil, both play an important part in providing residential possibilities near to nature.
Also Read: UAE Emerges As The World's Third Best Place To Live & Work During The Pandemic
Take A Walk Tour In The 'Green Lung' Of The Country's Coastline
Mangroves span around 15 square kilometres of the country's coastline and serve as a 'green lung.' It mimics a natural parkland in an urban context, recharging the air with oxygen. Interestingly, tickets for guided walking tours are sold separately. Throughout the tour, you will be escorted by a parked trooper who will provide you with important facts on the area, its fauna, and its influence on the ecosystem.
These tours are usually led in groups and are best suited for children aged 5 and up. The trooper-led Walking Experience in the park includes stops at the viewing tower, the Salt Collector, and other locations.
Also Read: Dubai To Abu Dhabi Travel Guide: Everything You Must Know About PCR Tests, Vaccination And Travelling
Experience Jubail Mangrove Park Kayaking In Abu Dhabi
Mangrove kayaking was once limited to the Eastern Mangroves in Abu Dhabi. In addition, one hour of kayaking is now available in Jubail Mangrove Park. To row across the vast waters shrouded by the best of nature, choose a double seat or single kayak.
The best part is that you don't need any prior knowledge to enjoy this activity at Jubail Island's mangrove park. The park provides all kayaking equipment. The cost for adults (aged 13 and up) would be AED 130. The cost for children aged 5 to 12 is AED 100.
Amaze Your Eyes With Wildlife
A typically relaxed stroll along the Mangrove Walk brings you face to face with the different animal species that live in the thick greenery. This includes a variety of crabs, molluscs, and migratory birds such as the Western Reef heron and flamingos. These birds' appearances are dependent on the season, so plan your trips accordingly.
Also Read: Abu Dhabi Culinary Season 2021: All The Mouth-Watering Experiences You Must Not Miss This Year
Is your mood up for a nature spree already now?