This comes as absolutely no surprise that 'lockdown' has become the word of the year 2020. The Collins Dictionary has declared this as the word of the year due to the rise in its usage in a coronavirus pandemic infused world. Defining the meaning of the word as "the imposition of stringent restrictions on travel, social interaction, and access to public spaces", the lockdown has single-handedly unified billions of period, under the comforts of their own homes. This would truly make you wonder, how would life look like in a post lockdown world? How would a coronavirus induced lockdown, alter travel, food and entertainment in India? Well, wonder no further, let's give you a glimpse into that.
How Travel Will Look Like In A Post Lockdown World
Now that lockdown has become the word of the year 2020, let's dive deeper into things that might matter for you. For instance, how would travel look like in a post lockdown world? Currently, countries across the world are promoting domestic tourism. According to Rohit Kapoor, India and South Asia CEO of OYO, domestic travel will pick up in India, leading to more business for the hospitality industry. Infact, resorts across the country are already offering great discounts to lure people during the holiday season. So when you step into a hotel, get ready to wear masks, get your temperatures checked and use hand sanitisers. Even your bags will undergo sanitisation. Immunity boosting drinks will replace your sodas and welcome drinks.
When times are tough, we often resort to spirituality. So, in a post lockdown world, many people would end up going on pilgrimages. Instead of commuting by public transport, people would travel in their own cars and go on road trips. Our Chief Editor, Kamiya Jani went on a fun road trip from Mumbai to Goa, post lockdown. Moreover, people will prefer travelling to hill-stations and beaches, closer to home. Workations at resorts will be the new trend, as work from home is here to stay. And instead of hopping from one place to another, travellers would prefer spending more time in one place, to reduce the risk of infection. And even if people do opt for international travel, it will be with lots of caution and care.  Changing times will surely bring about a change in the way we travel, for the better or for the worse.
Also Read: 5 Must-Have Travel Tech Accessories For That Hassle-Free Trip
Dining Will Be A Contactless Experience
Foodies! In the beginning of this lockdown, bars and restaurants were both closed, leaving us no choice but to don a chef's hat and whip up dishes in our own kitchens. And that's exactly what we did! From Dalgona Coffee to Banana Bread, we did it all. But eventually, we did crave for some buttery, gheelicious restaurant food. In Bangalore, many cloud kitchens opened up amid this pandemic. So people gobbled on delicious restaurant food in a contactless manner. While cloud kitchens serving fancy food from all across the world might be the future of home deliveries, what about dining out? Well, foodies, in a post lockdown world, restaurants and bars are quickly adapting to the new norms. Reduced seating capacities, hand sanitisers, thermal checks and online menus is the present as well as the future of eating out.
Even Vidyarthi Bhavan, the over 75-year-old South Indian restaurant in Bangalore has installed glass panels on its tables for a contactless dining experience. Thanks to the government, street food vendors can sell their lip-smacking food through online food aggregators like Swiggy. Social media also helped street food vendors thoroughly by creating awareness on their plight during this lockdown. Foodies have increasingly become more conscious about consuming local food, supporting street food vendors and using online phone payment means rather than cash or card for safety.
Also Read: 6 Desi Comfort Foods That Are Better Than Fancy Gourmet Dishes
Entertainment Will Evolve To Adapt To Changing Times
We all love three things, entertainment, entertainment and entertainment. And during this lockdown, with theatres closed and concerts cancelled, we really appreciated OTT platforms. So for all you desis wondering how would the entertainment scene look like post lockdown, let's show you the big picture. Theatres across India have slowly started reopening. Reduced seating capacity, sanitised popcorn and contactless payment options are some of the changes you'd witness in cinema halls.  Drive-in theatres have also made a comeback across the world.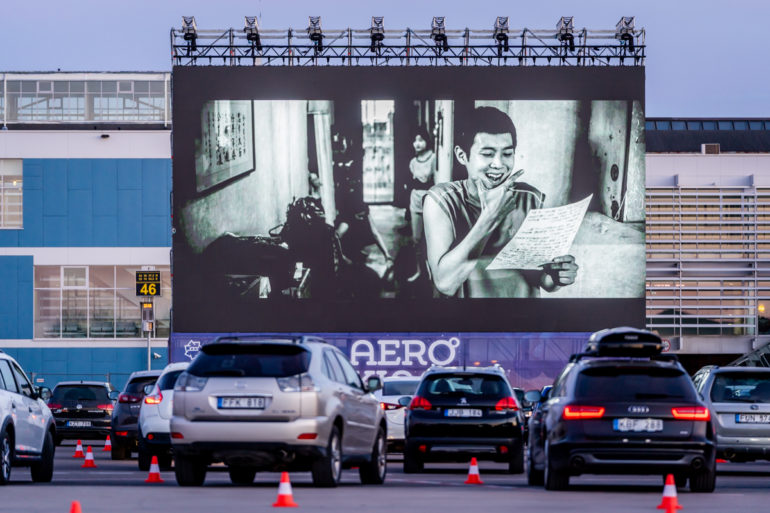 Hong Kong even started its first socially distanced entertainment park. Visitors can sit here in private pods and order food online from the food hall. Infact, Goa is also gearing up to organise Sunburn 2020 at Vagator beach with just 20% capacity. So whether its music concerts, standup comedy shows or cinema halls, face masks, hand sanitisers and thermal screening is here to stay in a post lockdown world. Yes, it can seem a little different, as earlier you could feel the cool breeze on your naked face and walk around with your sanitiserless hands. But then again, lockdown is the word of the year 2020, and for good reason. We're all in the same boat. NO!  We're in different boats, parked 6 feet away from each other, in the same water, coz social distancing right! Hang in there and put a smile on your face, under your mask for now!