My name is Mayank Singhal and I am a Delhiite. I'm an avid traveller by passion and I love to explore different places across India and abroad. Also, I am an analytics professional from the last 9 years. Travelling is oxygen to me and detoxes my body. So far I have travelled to 8 different countries and more than 25 Indian destinations. Mostly I have travelled solo, with groups or as a budget traveller that helps me keep my expenses as low as possible plus getting to know different people is amazing and addictive. In spite of being a Delhiite, I went all the way to Visapur in Maharashtra for an exhilarating monsoon trek in September 2019. This scenic spot is just 2 hours away from Mumbai and 5km from Lonavala. From a challenging hike, scenic monsoon experience to a breathtaking waterfall, let me take you on my Visapur trek.
Why Did I Go For This Visapur Trek?
Visapur has always been on my bucket list as it seems so tempting in the pictures on the internet. After I came to know that it's just a one day trek, I decided to make my dream a reality. Anything that fits into my weekend is always welcomed. Therefore Visapur is a perfect choice for a small trek during the weekend even for North Indians Visapur is an amazing destination for trekking that a one should definitely go for it atleast once in a lifetime, specially during the monsoon season.  It's only 5km from Lonavala. So you can travel here in a bus. But if you're up for a sightly costly option then taxis and autos are always there. Even though you can visit Visapur from both Pune and Mumbai, I'd suggest you go via Pune. It's a slightly shorter route plus you won't encounter heavy traffic there.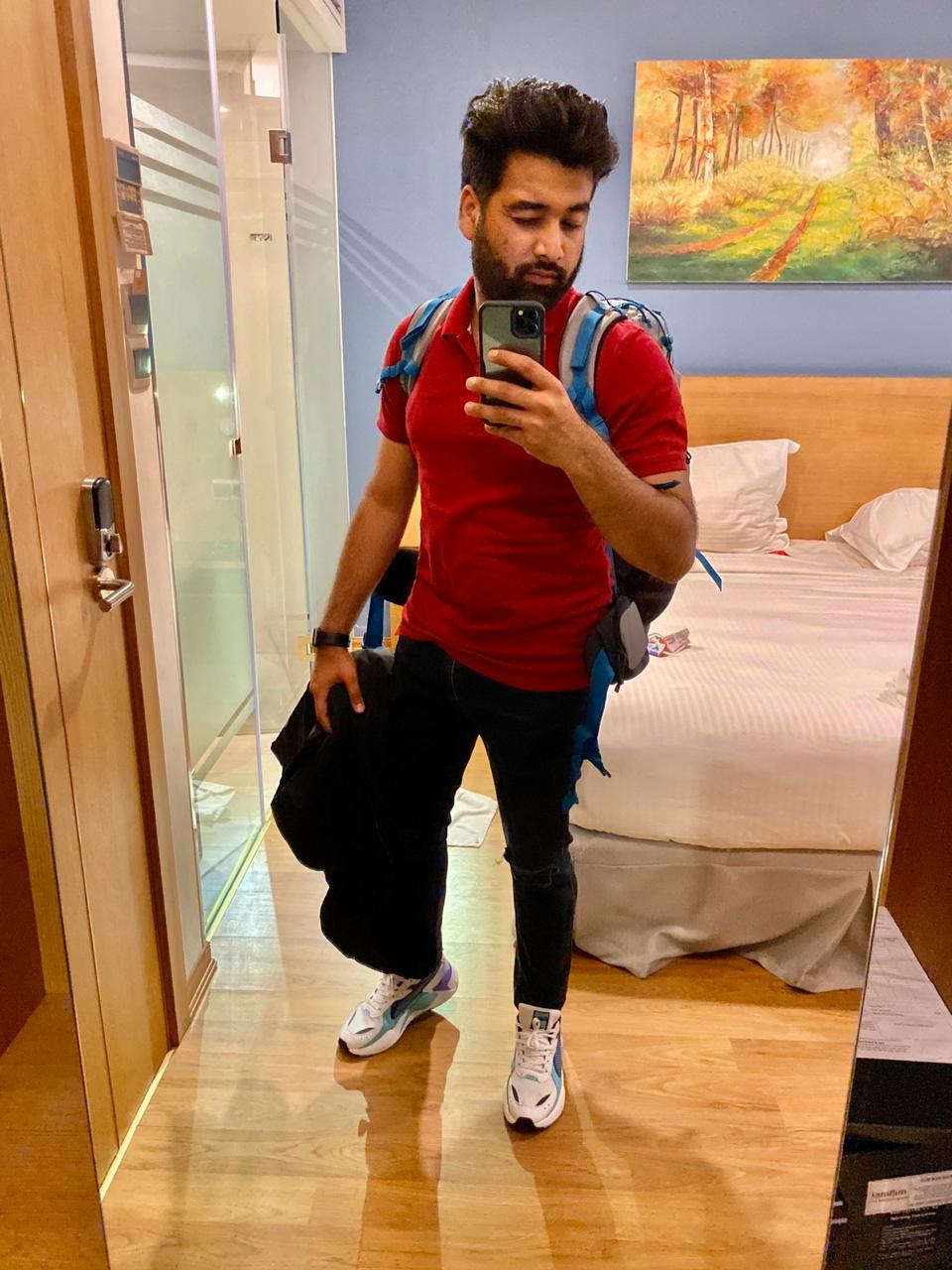 Travelling To Visapur From Delhi
I booked a late evening flight from Delhi to Pune with a return ticket for ₹5500. After reaching Pune, I took a local taxi for Lonavala which cost me around ₹1200. You could also take a bus from Pune to Lonavala which is a cheaper option. Also, I made a mistake by trying to stay in a small village as it's situated closer to the trekking area. I wanted to start my trek early in the morning, so I took this decision. But I struggled a lot to find the homestay at night, as the village is quite small compared to Lonavala. Looking back, I'd definitely recommend you stay in Lonavala and then commute to Visapur early in the morning.
Also Read: I Went For Cave Exploration & Midnight Trek To Karnataka's Anthargange For Just ₹1000
Starting The Trek At Visapur Early In The Morning
Trek should always be started early in the morning for the best experience. Therefore I started at around 7 am from Malavali. I started trekking from a narrow street. A gigantic rock welcomed me at the beginning of the trek. Climbing the rock was quite hard, especially since it was just my warmup. However, I felt quite pumped thanks to an adventurous start. After climbing up this big rock and hiking for around 20 to 30 mins, I was mesmerized by the amazing view of the village.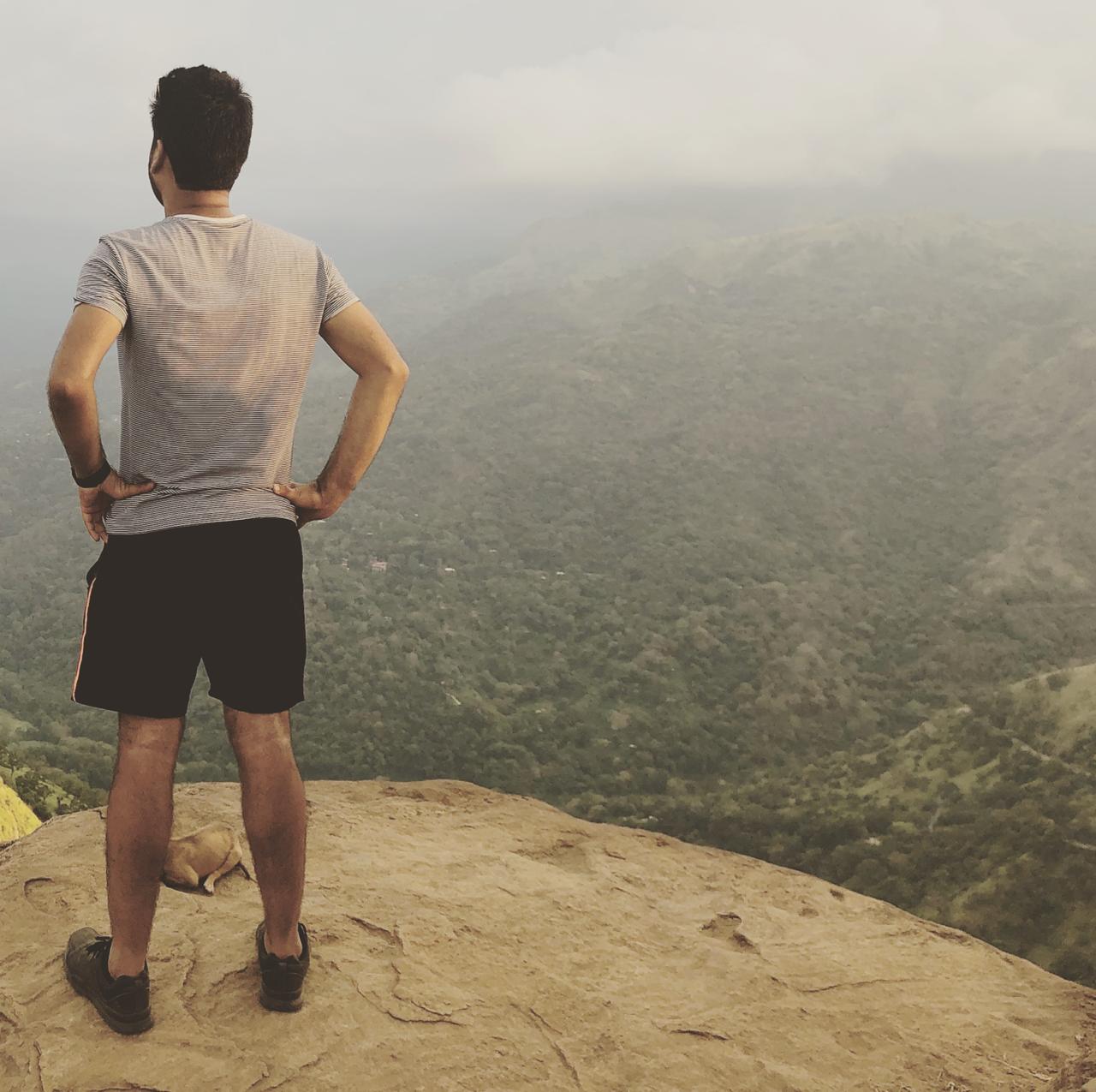 You can sit here for quite a while if you are not in hurry. So you can take your time and enjoy the weather and the view. I definitely felt so relaxed after a tiring 30 minute hike uphill.The best part is that this trek is an easy to moderate level. So if you're a beginner you can also unhesitatingly be part of the Visapur trek.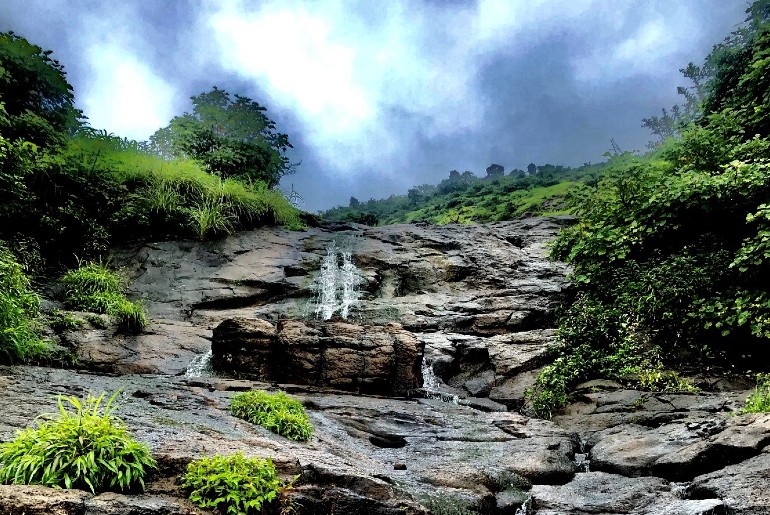 Witnessing A Gorgeous Waterfall
I walked on a slippery surface for another 20 minutes. After which I came across a  cave-like structure made up of cactus-like plant (Cylindropuntia). I couldn't hold this plant for support. Once I crossed this, I met the first waterfall of this trek and the most beautiful one undoubtedly. The gushing waterfall with swimming pool like structure surrounding it was nature at its best.
After trekking further I encountered a nice flat surface to walk on as its the end of the first mountain. You can rest there as it has got a sitting area under a small hut. From there on I came across 2 routes. The first one goes to a village and the other goes up to the fort. As I didn't know which one to take, I ended up in front of a big ladder-like waterfall. It was gorgeous but it was a dead end.  This is the second waterfall of the Visapur trek but its broader than the first.
I continued trekking for another 25 minutes and took the route to the right. I started walking closer to my destination. On the way I found one small stall for snacks and tea, nothing could have better than a cup of chai in the middle of a mountain amid the light showers.
Also Read: This Hidden Waterfall On Goa-Karnataka Will Transport You To Another World
Visapur Trek's Highlight: The Staircase Waterfall
Once I finished my cup of warm tea, I hiked for a long time spanning 2.5 hours. I climbed on the toughest patch of this hike. I went up a steep route full of huge stones. It was challenging and required a lot of efforts. The highlight of all this was that I got the first glimpse of the stunning Visapur Fort surrounded by rocks. The scenery is nothing short of breathtaking.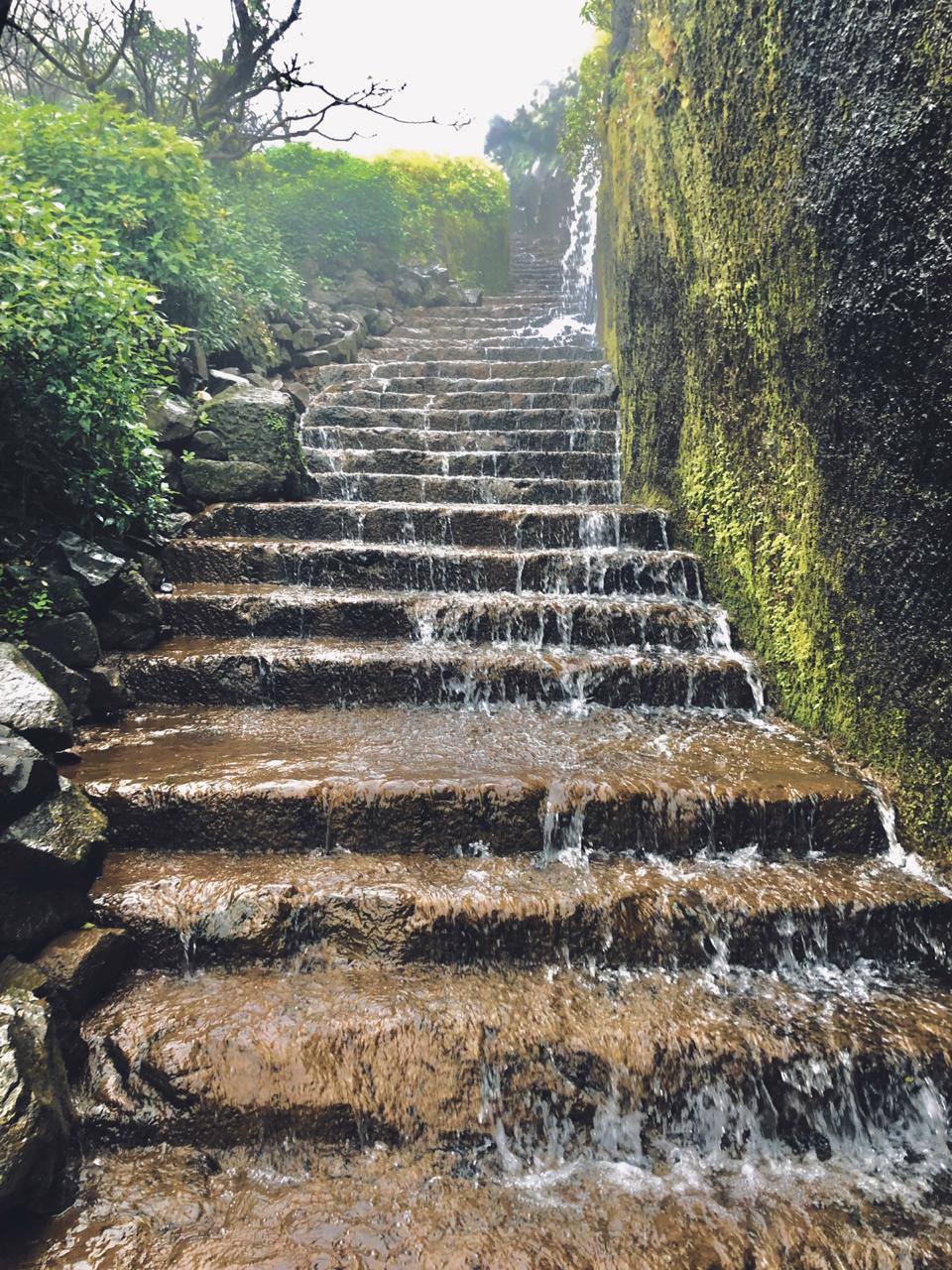 I enjoyed the scenic view of the fort, and took a breath of fresh air. But then I hadn't reached my final destination yet. So, I went trekked for another 30 minutes. And that's when I witnessed a gorgeous waterfall shaped like a cascading staircase filled with gushing waters. This is what Visapur is famous for. The staircase waterfall is unique and something out of this world. Climbing those water-filled stairs was just next level fun. It's slippery to climb and you get all wet, but who's complaining right? After some resistance, I finally entered the fort.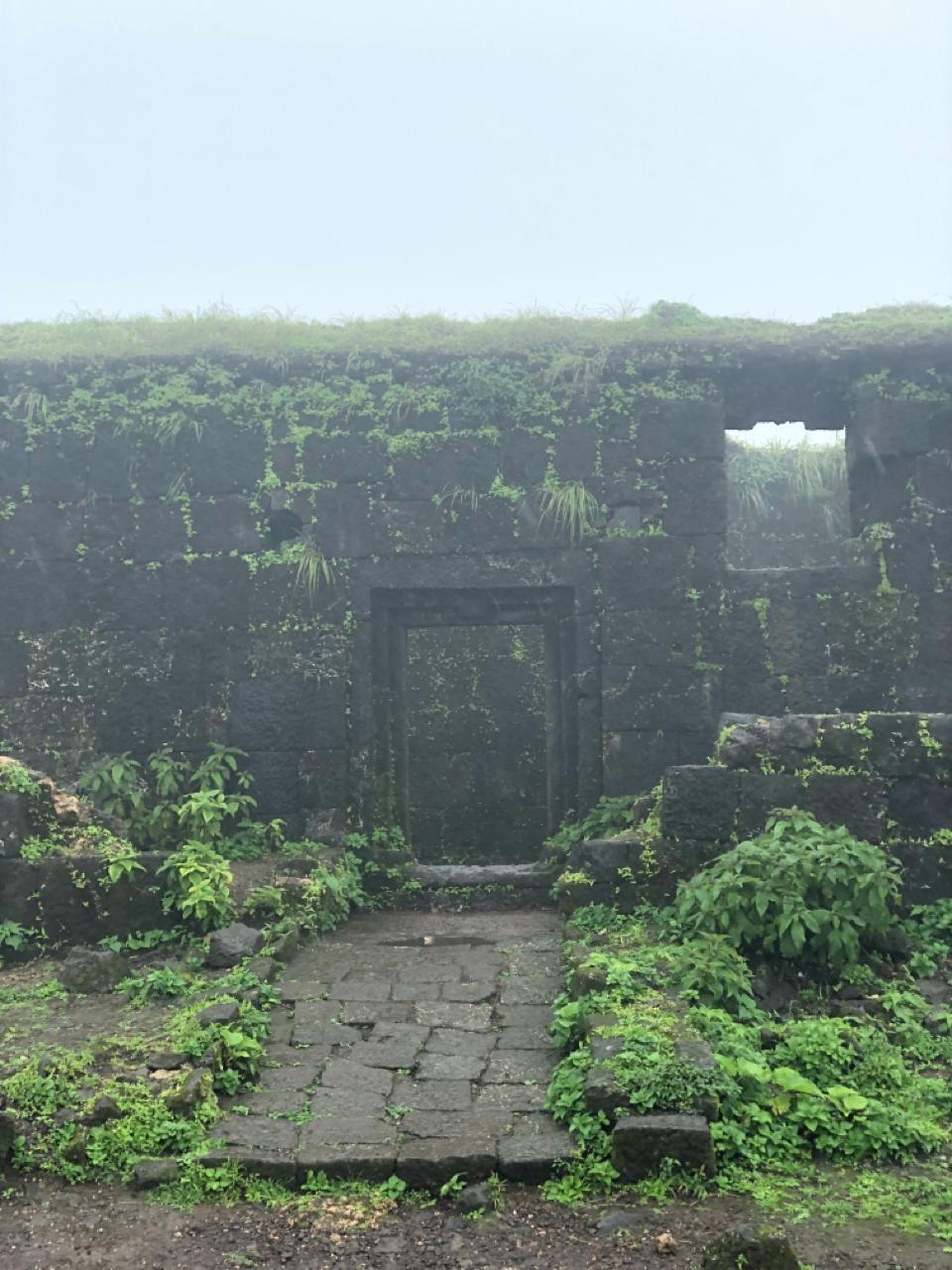 Also Read: 10 Stunning Waterfalls In India To Enjoy The Monsoon
The Captivating Visapur Fort Ruins
Once I entered the fort, I was captivated by how majestic it looked. It's so expansive that it take you around 45 minutes to explore the entire fort and then finally relax.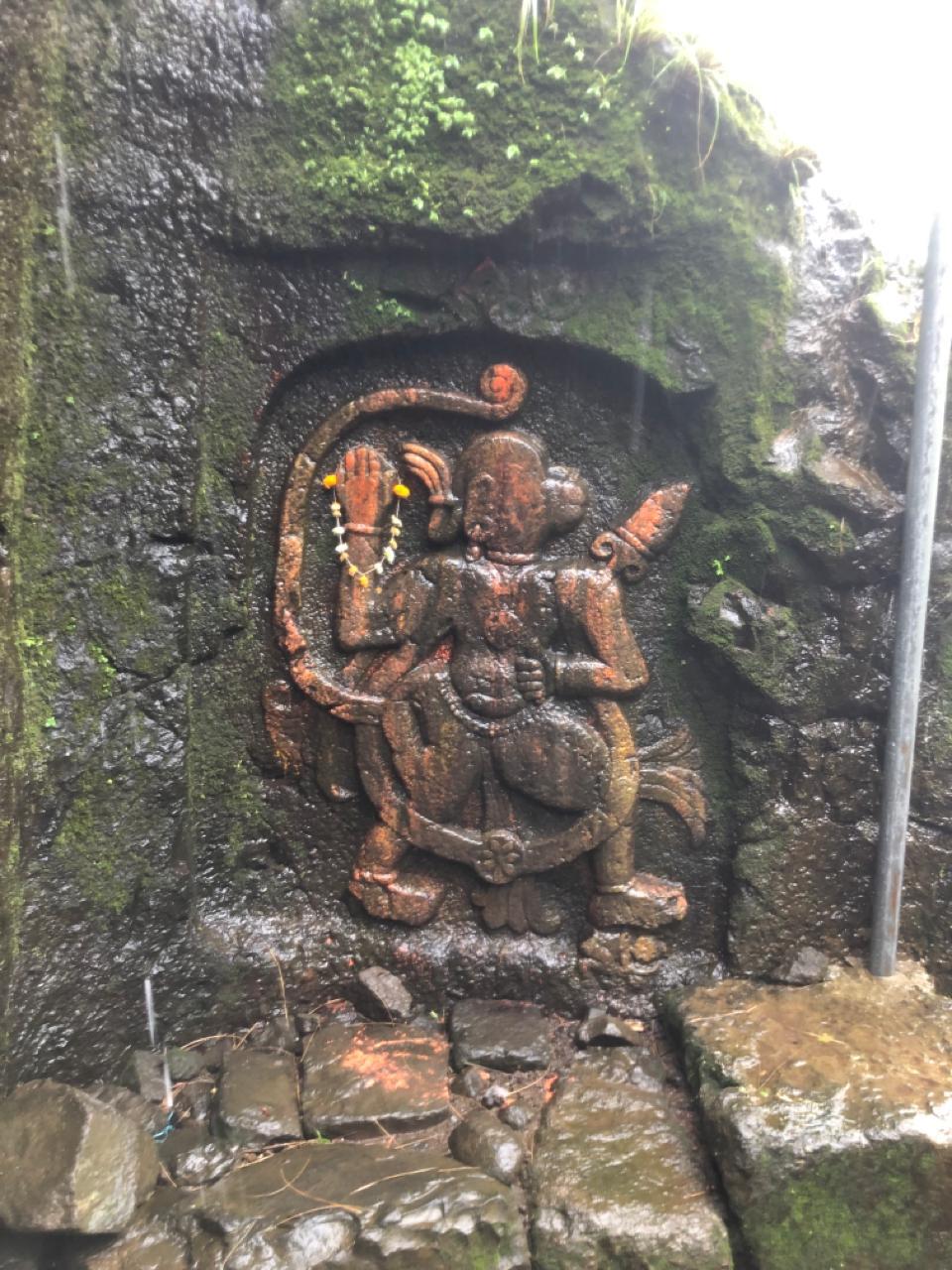 With all the efforts I took to trek all the way here, I just sat inside the fort and enjoyed a hot cup of tea. Right on top of the fort I witnessed one waterfall which flows against gravity due to too much air pressure. Now, that's unique right?
The Climb Down And Journey Back To Delhi
After spending a good one hour on top of the Visapur fort, it was time to come back to my homestay. Climbing down the mountain was quite easy as it only took 2 hours with a comfortable pace. I reached back to the homestay exhausted, nevertheless, the sights of the gorgeous waterfalls and picturesque fort never left my mind.  Next day I took an early morning flight back to Delhi with a bundle full of nature's best memories.  It was a lovely one-day trek you can totally do over the weekend.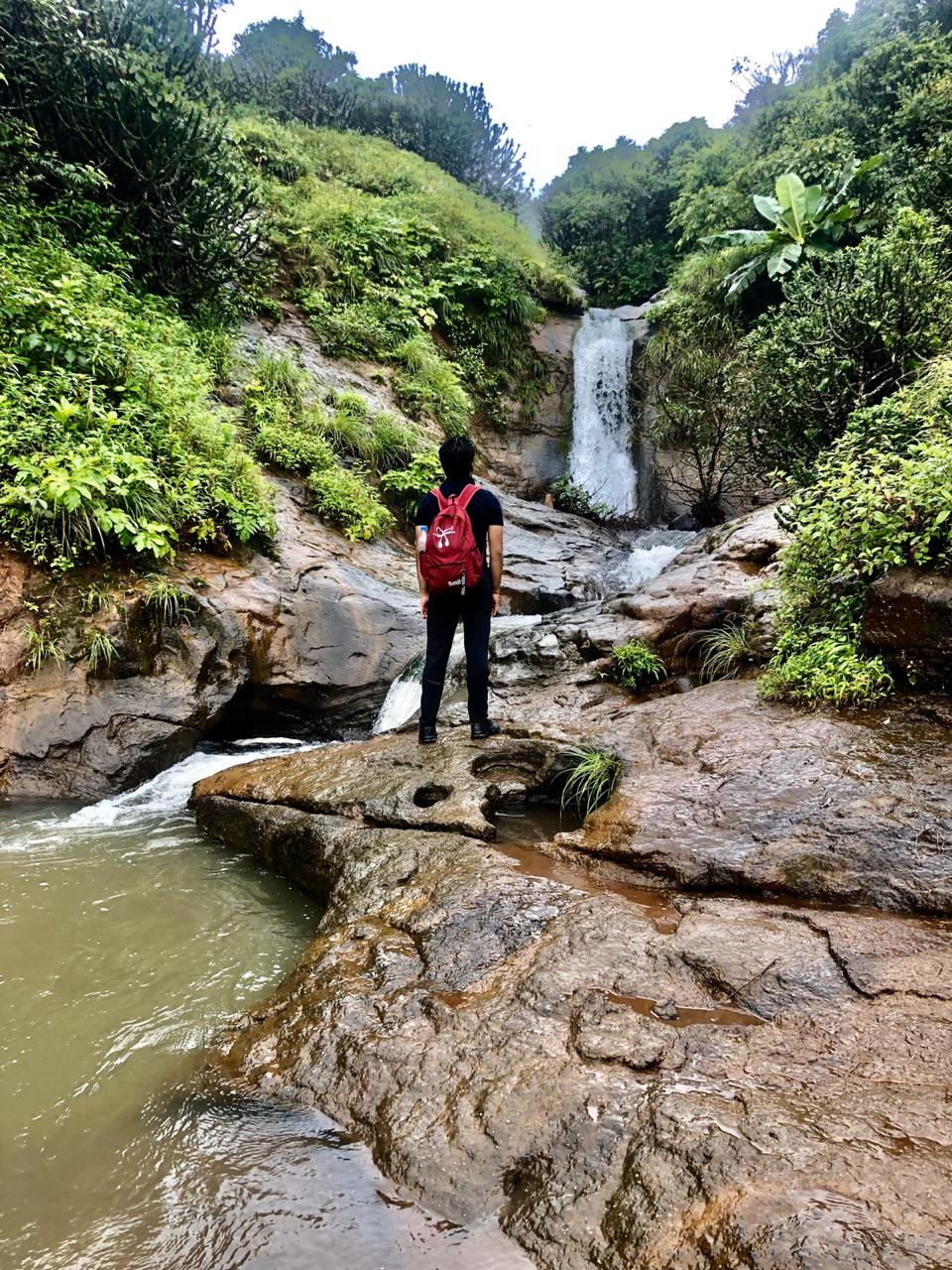 Also Read: These Winter Treks In North India Need To Be On The List Of Every Adventure Traveller
Overall Expenses
Being a budget traveller, I don't keep my budgets high however this was a short trip and I ended up spending little more. I spent little over ₹5100  for a return ticket from Delhi to Pune. I booked a decent homestay for 2 nights in ₹5200. The cabs cost me ₹2500. And I spent another ₹1000 on food and snacks. I also spent ₹1000 on intercity autos and taxis. I spent a total amount of ₹15,000 for this trip including my flight tickets.
Things To Keep In Mind Before Trekking At Visapur
*Stay in Lonavala instead finding a place near Visapur as the roads are not good
*Pre-book your auto early morning to reach the start of the trek
*Do carry a raincoat and water bottle, and a pair of strong trekking shoes much needed
*Homestay and intercity travel is expensive even for a smaller distance
*Try to book Pune to Lonavala through Ola or Uber for a cheaper option than a local vendor
If have any questions regarding this trip or anything about Visapur Trek, feel free to ask.
Well, now that I told you of my experience, I'd totally vouch for the Visapur Trek. It's a perfect weekend getaway trek for anyone. The fact that this trek ranges from easy to moderate, Visapur welcomes everyone. Since I went solo, I'd vouch for it. So you can also go for a solo trekking experience in Visapur, and I hope you have as much as I did.