With Spotify unveiling its Wrapped 2021, we thought why not take you on a trip down memory lane of some of the weirdest food trends of 2021! From absurd food combinations, dishes that brought sweet and savoury on one plate to adding cold drinks to egg dishes, this list will make you ask why. While some of you might be curious to try it, others might want to run away as far as they can from these food trends. Nevertheless, we're here revealing Weirdest Food Trends Wrapped 2021.
1. Gulab Jamun Pizza
Pizzas have been experimented with since time immemorial. For all those complaining about pizzas topped with grapes and pineapples, how about Gulab Jamun Pizza? A picture posted on Twitter shows a thin crust pizza, topped with the desi mithai Gulab Jamun and sprinkled with nuts. Bringing the best of both worlds- Indian sweet and Italian snack, foodies are left amused, some even disgusted.
Gulab Jaman Pizza 🤦🏽‍♂️😠 pic.twitter.com/9NSkyoi0f1

— Naya Daur Media (@nayadaurpk) November 7, 2019
Also Read: Nagpur Eatery Makes Black Detox Idlis And The Internet Is Not Okay With Them
2. Fanta Omelette
A Gujarat street food stall shocked foodies when it started serving Fanta Omelette. Yes, you read this right. The dish named "Fanta Fry", involves preparing an omelette with the cold drink Fanta, boiled eggs, sunny side up and spices. This Fanta omelette is then paired with a gravy made from green chutney and mashed potatoes. Sold at ₹250 per plate, customers can even try their ThumsUp Fry and Limca Fry, which are omelettes made with other soft drinks. So, do you have the guts to try this?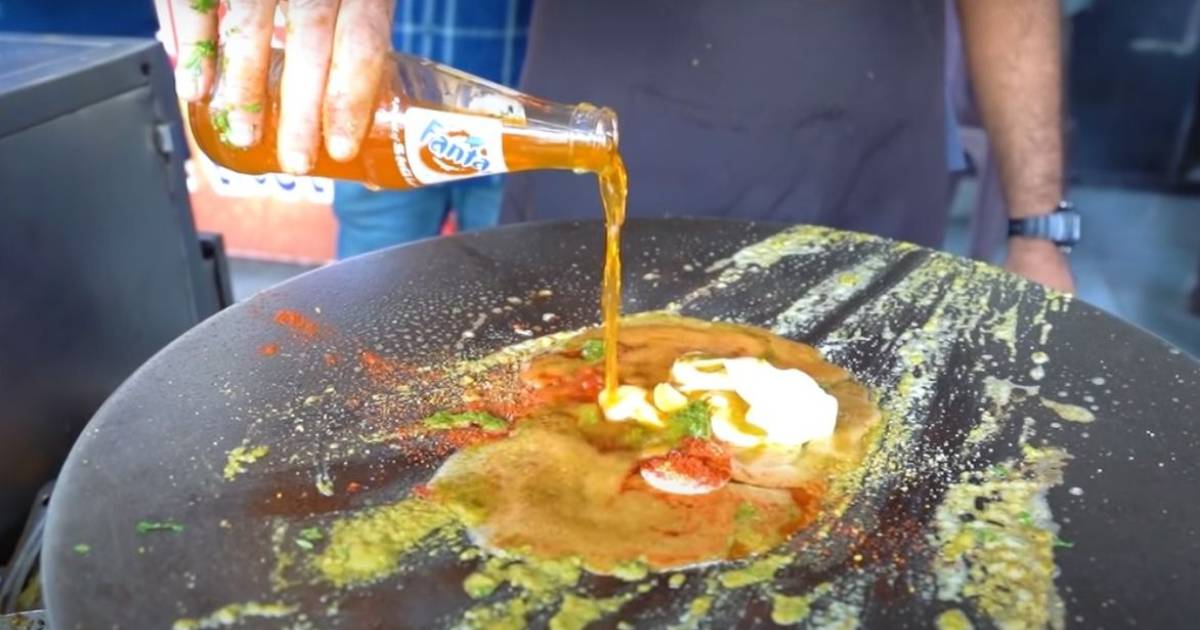 Also Read: Chocolate & Strawberry Samosa Is The Latest Food Trend & Foodies Call It A Sin!
3. Deep Fried Water
Forget Deep Fried Ice Cream when you can try Deep Fried Water. People are actually deep-frying water just like pakoras and french fries. To deep-fry water, calcium alginate made from chemicals like aqueous sodium alginate and aqueous calcium chloride is used to bind water. Next, flour, egg, panko crumbs are used to coat 12 globules of water and then fry it. So, in this water pakora, the oil and water don't mix. Cut open the crispy coating to witness water oozing out of it.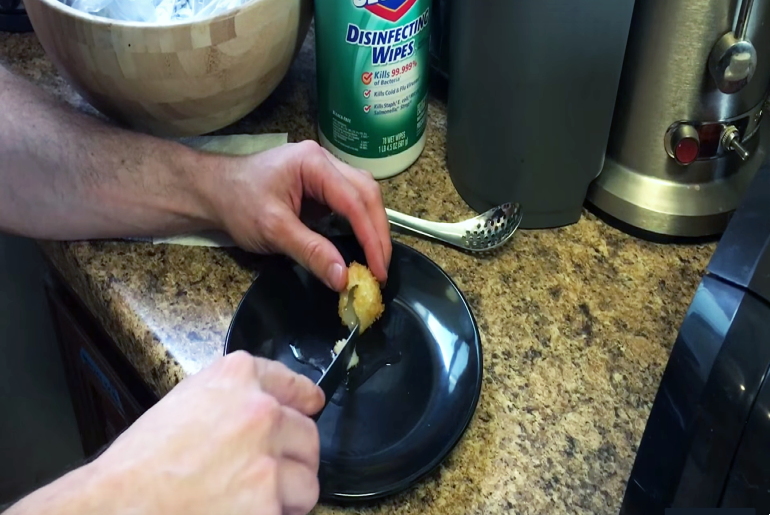 4. Maggi Milkshake
Maggi Dosa, Maggi Sandwich, Maggi Laddoos, Maggi Kheer, the list of Maggi food trends are neverending. Adding another one to this list is Maggi Milkshake. A Reddit user shocked netizens when he posted a weird picture of a mug of Maggi Milkshake. The picture instant went viral where social media users struggled to unsee it and wondered how the noodles dunked in creamy milk would taste? That's left to your imagination!
Maggi milkshake. Everyday we stray further from God's light.

Via @YearOfRat pic.twitter.com/Me0VsOayJs

— Angad Singh Chowdhry (@angadc) September 11, 2021
Also Read: Watermelon Pizza Is The Newest Food Trend And You Can Make It Too!
5. Chocolate Masala Sweet Corn
Don't we all love our good ol' bhutta? Gorge on roasted corn on the cob by the beach or on a rainy day and it's the perfect cure to everything! Well, if it's Chocolate Masala Sweet Corn in Delhi then we might have a second thought. A viral video by food vlogger Anikait Luthra shows a Delhi street food vendor topping cream, chocolate sauce and masala on sweet corn. To make matters worse he finishes it by squeezing lemon juice. This Chocolate Masala Sweet Corn left netizens perplexed. Delhiites perhaps give this a try and let us know how it tastes!
View this post on Instagram
Also Read: Chocolate & Strawberry Samosa Is The Latest Food Trend & Foodies Call It A Sin!
6. Marijuana Pizza
It wasn't just us desis who were big on food trends, a pizzeria in Thailand named The Pizza Company concocted as 'Crazy Happy Pizza'. This pizza is made with deep-fried cannabis leaves. Both the cheese crust and dipping sauce used for the pizza also contains marijuana. Well, if you want a pizza that gives you a happy high, then probably this is the one for you. For an extra fee you can add more cannabis leaves to your dish. This is another food trend that's bizarre yet piques one's interest.
Marijuana Pizza Is A Food Trend In This Country And It Is Called 'Crazy Happy Pizza'
7. Oreo Pakoda
If you thought Oreos were just used in cakes and milkshakes, you couldn't be more wrong. An Ahmedabad eatery prepares Oreo Pakodas. In a viral video posted on the 'Foodie Incarnate' page on Instagram, a vendor is seen whipping batter from gram flour, baking powder and salt. He then dips Oreo cookies in it and deep-fries it in sizzling hot oil. The pakoras are brown and fluffy on the outside, only to encase a full Oreo cookie on the inside. This is a questionable food trend that perhaps Oreo fans might savour.
View this post on Instagram
Well foodies, these were some of the weirdest food trends of 2021. How did you like this unsolicited trip down memory lane? Do share with us any other food trends that you know of!