So many of us thought that 2020 would be the year for us. A year where we would travel more often and tick many of our dream destinations off our bucket list. We had so many hopes and dreams for the year. And then bam, COVID happened – putting all our plans to rest. But don't worry. All hope's not lost yet. There's one sure shot way of travelling the world from the comfort of your couch – by watching some of your favorite Bollywood movies. Not only will they take you around the world and satisfy the travel bug in you, but will also amaze you with their excellent story lines, and breathtaking landscapes.
10 Bollywood Movies That Will Take You Around The World
Let's go around the world, shall we?
1. Queen
This movie deserves the first place our the list because not only did it manage to showcase the cities of Paris and Amsterdam beautifully, but also turned out to be such an inspiration for so many women to travel solo! Truly an emancipating watch, it takes us through the streets of Paris, showcases its beautiful streets and landmarks, and then goes on to do the same in Amsterdam, further showcasing its naughty side. A beautiful story line that makes your embrace and discover yourself, Queen teaches us that sometimes the journeys taken by ourselves, teach us the most. On a side note, Paris' Eiffel Tower Which Was Shut Due To COVID-19 Reopened To Visitors On 25 June.
2. Zindagi Na Milegi Dobara
3 charming men. 1 epic road trip. To Spain. No matter how many times you watch this movie, it will bewitch you into watching it over and over again. The movie makes you fall in love with Spain and also helps you plan a trip, with an almost ready-made itinerary. Whether its deep sea diving in Costa Brava, the famous La Tomatina festival in Buñol, the skydiving place in Sevilla, or the the bull run in Pamplona, every shot of the movie seems like a postcard. Apart from that, the life lessons, lame jokes and deep poems, will make for an exciting watch and totally make you pick up the phone and plan a trip with your mains.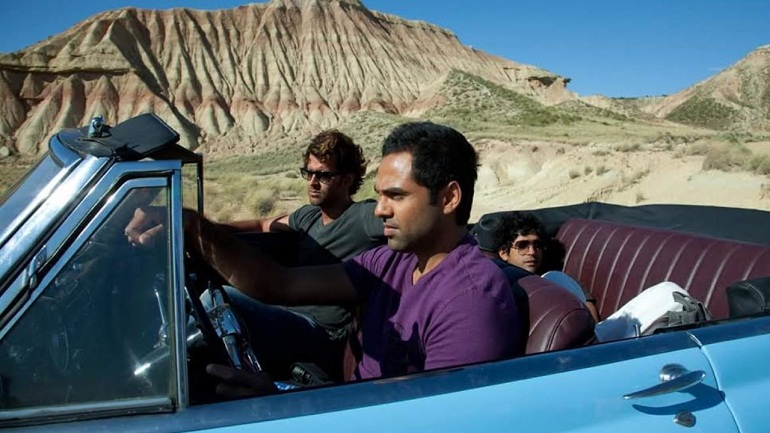 3. English Vinglish
This movie not only tugs your heart at all the right places but also feeds it with the beautiful yet fast-paced life of New York. When Sridevi arrives in the city for a wedding, she decides to take English classes secretly as she continues to get belittled by her family for not knowing the language well. And that's where her rendezvous with the city happens. Filmed across New York, you will see all the iconic spots in the city, such as the Big Apple, Times Square, Washington Square Park, Fifth Avenue, Brooklyn Bridge, Empire State and more. Btw, did you know that the New York Subway Was Shut For The First Time In 115 Years due to the pandemic.
Also Read: 10 Bollywood Songs For That Perfect Monsoon Road Trip
4. Tamasha
What happens in Corsica stays in Corsica! This dialog along with the numerous other filmy ones many others blew our mind away along with the picture-perfectness of the French island. And we couldn't stop drooling over the gorgeous visuals that graced our screens. Turquoise blue waters, glittering bays and stunning landscapes in the background immediately put this undiscovered gem on our bucket lists. Once things get better, we hope to plan a trip here and engage in lots of matargasthi. If you're interested, you can also try these 5 Unique Experiences In France.
5. PK
Splendid canals, colonial buildings and cobbled streets, Bruges in Belgium made the perfect setting for Anushka Sharma and late Sushant Singh Rajput's love story (sobs). Known to be the first Bollywood movie that was shot here, the movie with its beautiful scenery made and engaging story line will keep you rooting for the charming streets of Bruges. Also, fun fact: The First & Only Museum Dedicated to Fries is Located In A 14th Century Building In Belgium! 
6. Cocktail
Another beautifully shot movie, Cocktail is such a visual treat. With a good-looking star-cast, it takes you through all the major landmarks of London – Borough Market, Portobello Road, Battersea Park, Colville Gardens (Notting Hill), Leicester Square, Piccadilly Circus, and Brick Lane. Also remember the song that got all of us humming – Tum hi ho badhu, sakha tumhi, well that was shot in South Africa's Cape Town at the alluring Maidens Cove Beach. Total eye candy.
Also Read: Covid 19: Here's How Bollywood Is Making The Most While Staying Indoors
7. Dil Dhadakne Do
The luxurious Mediterranean cruise taken by the dysfunctional Mehra Punjabi family along with their family and friends, takes you on scenic journey like no other. Apart from giving us a glimpse of the lavish cruise life, it showed us some of the most exotic destinations in Turkey, where one can spot locations of the popular Taksim Square, Hagia Sophia, the Bosphorus Bridge, Galata Tower, Eminonu promenade among others. Beautiful locales and lots of high Punjabi energy, this movie makes for perfect weekend binge.
8. Anjaana Anjaani
Before putting an end to their lives on New Year's Eve, two strangers decide to make the most of their lives. And what better way to do it than through an epic road trip. So the two take off in a striking red car, from New York to the sin city – Las Vegas. With stunning visuals along the way, and extremities of Vegas' high-end bars, the movie makes you make you want to take a road trip soon! Do you know these are 10 Best Road Trips You Can Take In India.
Also Read: 5 Food And Travel Podcasts You Must Listen To
10. Harry Met Sejal
If visiting Europe has always been on your wish list, this movie is a must-watch. In a hunt for Sejal's engagement ring across all the destinations she has visited, the movie stunningly captures so many countries across the continent – Prague, Lisbon, Vienna, Amsterdam, Frankfurt, and Budapest. Showcasing the cultures, landmarks and the local life of these destinations, it will take you on quite a journey in the 2.5 hours of its runtime.
9. Ae Dil Hai Mushkil
Again, fulfilling your Europe wish list, Ae Dil Hai Mushkil has been shot in the beautiful locales of London, Paris and Austria. You will live through the happening nightlife of London's suburbs, Paris' artsy quarters and Austria's jaw-dropping locations of Innsbruck and Vienna. While the romantic saga will be a little too much for them others, those engaging in some 'ek tarfa pyaar' will relate. Sorry for the bad joke, but yes, the exceptionally beautiful locations and of course its celebrated songs will keep you hooked throughout. Btw, do you know The World's First Social Distancing Park Has Come Up In Austria?  
So, what are you waiting for? Watch them already. And tell which one of these is your favorite! Also, in case you want to catch on some movies that take you back to our all-time favorite destination, here are 9 Bollywood Movies That Will Remind You Of Goa And Its Beauty! Btw, do you know that Goa Is Now Open For Tourism But Here's All You Need To Know Before You Get There.
Also Read: Bollywood Celebs Reveal Their Favorite 'Maa Ke Haath Ka Khana'