I am Goldie Duggal, a filmmaker by profession. I lost my mother when I was one. I have a special bonding with my Dad who supported my decision of coming to Mumbai and working for films. After completing my graduation in 2002 from Kota, I came to Mumbai to pursue my film career into direction… It was just by luck that I got selected to act for  Cadbury 5 star advertisements. You will know me as Suresh from the popular 5 Star Ad. During that time I got some other opportunities to act in TV and some other ads which I have done. Apart from filmmaking and starring in Ads, I am a passionate traveller. I love backpacking and travelling on a tight budget. Speaking about travel, are you looking for a great itinerary to Europe? If you are, then let me tell you, I have travelled to 18 cities and 9 countries in Europe for 52 days in just ₹80,000, including airfare. So here's my journey.
From Filmmaking To Travelling
In 2007 I met Umesh Shukla (director of OMG Oh my God) He was about to start his film for U.Tv motion pictures named Dhoondte Reh Jaoge. From there my journey as an assistant director started. When I was doing my first film, my Dad passed away. While assisting in direction, sometimes we have work, sometimes not, Once I was doing a small budget feature film where I was an assistant and there I met my better half, my wife Sheetal who was the Production Designer. We dated for a year and decided to get married. Before we got married I told  Sheetal, I wanted to travel, do some extreme travel seeing the world knowing the people, places and for me, extreme might means going alone on road and walk till Haridwar. She thought I was joking, Mumbai to Haridwar was above 1500 km, I convinced her that this walk I might not be able to do after marriage. She said ok.
The next day I was on road walking for Haridwar from Mumbai. I had completed that memorable trip. That's a different story, which I keep for later. After a few months of that trip we got married, but still no stable Job. Whatever work I used to get in the Film Industry, I take that up. I have worked as Chief AD with Umesh Sir over OMG Oh my GOD, or as a Production Executive with Excel Entertainment on Talaash, Or sometimes helped Sheetal in Art Direction. Working over several Jobs gave some good experiences and knowledge of different fields of Films.
Travelling always went hand in hand while working. There have been several trips I made in India and Europe. My entire attention was shifting to travelling and I always keep thinking about that even if have money or not. This year in May 2019, I had walked from Dharamkot (a small hippie village above Mcleodganj) to Amritsar donating all the money and hitting the road without a single penny till Amritsar. That was one of the best experience of my life.
Travelling is the only thing once you start it, it's kind of addiction, you always want to live in that world, go more and more often, see more places, meeting new people, trying out different professions, different lifestyle and live out different lives where every morning is different, you get to feel every season from springs to Autumns. When I travel not only I see the place but I live that place by working with the locals. I choose my work which were always part of my fantasies like last year on our trip to Tuscany, Me and Sheetal picked 500 kgs of olive from trees and made olive oil there.
There are several other works I have done in exchange for free food and stay like packaging herbs, oregano, thyme, basil in Almora, making documentary on energy healing community in Dharamkot, grapes picking and winemaking in France, worked in some monasteries, cooking in Chateau's of France, lived with Hare Krishna community in Prague, restoration of an old Church in  Germany, There is a long list of works but I will keep those stories for later.
My Europe Trip
Now that you know a little bit about me. Let's get straight to my travel story. Here's the story of my travel to 18 cities and 9 countries in Europe in just ₹80,000 for 52 days including airfare. I first flew from Mumbai to Paris for ₹22,000. My return ticket from Frankfurt to Mumbai cost me ₹28,000. It was expensive because it was a flexible ticket, just in case I wanted to extend my stay.  The best thing was my entire tour was unplanned. I believe in going with the flow not restricting myself with something as when things are unplanned then more of surprises are waiting for us to be turned into some wonderful memories. You have a world of options open for you. The major apps I used were Couchsurfing and Workaway for accommodation. Bla bla car, Omio, Flixbus, trains or Hitchhiking for travelling.
Country 1, France
I landed Paris airport at 8.00 AM to be welcomed by a strike going on due to which there was no Public transport working. My host Tamal stays at Cite Universitae which was 26Kms far. Only transport available was Uber Cabs, which was very expensive. At the metro station, I got to know about one train going till Gare du Nord which was half of the distance. Because of the strike and to help the passengers there was no tickets that day till Gare du Nord,
Next train available from there was at 5 PM. Google map was showing 2hrs 20 Minutes walk for 13 km.I walked seeing the beautiful architecture near the canal till Cite Universitae and reached the given location which was mansion de Inde, Inside Cite Universitae there were houses of different countries (kind of Campus), each house having several rooms, community centre, play areas where many people stay, every house architecture represents the country. You can spot Japanese house by Cherry Blossom trees planted outside, a Greek house painted white and Blue, I went inside the Indian Campus and met my host Tamal Chatterji.
Also Read: France Visa for Indians, Indian Passport: Types, Application Fee, Form, Requirements And Visa On Arrival
We went to his room, which was a nice small cosy room with a beautiful view. Over tea we had a long conversation sharing our lives, Tamal is a scientist, he gave me an insight into their world, which was very exciting. He introduced me to other Indians in the Campus from different field of art, culture and research background, Tamal cooked delicious food for us. We ate together, laughed and played antakshari with 90's Bollywood songs, First day of mine in Paris ends up beautifully with lots of ups and downs leaving some beautiful memories for life and giving me some lifelong friends. Next day I had booked flixbus (12.99 Euro) to Brussels. My host, there was Gregory, a guy living in the centre of Brussels for 30 years. Tamal and a few friends came to drop me at the bus station.
Country 2, Belgium
Gregory(my host) stays 20minutes walk from Brussels bus station. He was a kind of fitness freak guy preparing to run 43kms of Marathon., After keeping my luggage, he gave me a good walking tour to all beautiful attractions of Brussels. I told him that I will cook some Indian food for him which he was excited. Ingredients from the supermarket cost me 8 Euros. My stay at Greg's house was for 2 days, We cooked together, had a good conversation over a beer, In the morning we were doing some Yoga and Meditation. (In Indian I have been doing Yoga since long and have done several Meditation courses as well including Vipassana, Art of Living, Tibetan Buddhism). I was happy to share my knowledge with him.
There were many Pakistani people settled and running several businesses in Europe. I met a guy named Waleed Khwaja. he asked me kahaan se hai aap, I said India, He said "OH HO toh aap toh hamaare bhaai hue". He has a Belgium Chocolate shop in the Centre, With so much love he let me tasted a lot of his specialities, we talked, exchanged Whastapp number, Facebook ID's and we became friends. I had similar encounter in Florence during my previous travels where a Pakistani restaurant owner said " aap India se aaye hai, are hum ek hi toh hai, aap vegetarian hai toh aaj hum aapko lazeez bhindi khilaate hai", That kind of hospitality.
Actually it is some Politicians, Media, some Organisations and illiterate people at both the sides of border who were spreading hatred. The condition now is for all Indians whole Pakistan is their enemy and for all Pakistani people entire India is their enemy. Truth is very different. We have the bad habit of Judging without knowing the facts.. I request anyone reading this post instead of spreading hatred, spread love. People like Waleed are very important for the world to make it a better place.
Brussels was a nice experience… I was spending my time with Gregory and when he go for work or run I was with Waleed. I bought a magnet as a Souvenir from Brussels for 5 euros. It was worth spending as that was my hobby collecting magnets which keeps on reminding my beautiful days back in the place. My next destination was Ghent which was 30 minutes by train from Brussels & the ticket was 7 Euro. After breakfast of bread Omelette at Gregory's house and carrying some Omelette sandwich for lunch, I left Brussels.  Talking about food, you must have the waffles here. They are just amazing.
After reaching Ghent I got to know that my host is at work and will be back by evening so I have the whole day in hand. City Centre was about 5.5 kms from train stations, Google map was showing 50 minutes by walk, I walked there. Wandering around the Centre seeing some major attractions and beautiful architecture near the canal, time passed by easily.
At 4 PM I got a message from my host that she is back at home. Cindy's house was 1.8 km from Centre.  She welcomed me in her house and showed me my room upstairs. Cindy was living there with her son in a very beautiful locality and the entire area looks fairy tale kind of place. She has invited one of her colleagues for dinner, Cindy made traditional Quiche and I made Bhajiya and Veg Biryani for all with the ingredients I was carrying from Mumbai. We talked till late over food and drinks. My time with them was so good that I extended my stay for the next day. So there was a change in my plan and schedule. I send the message to my host In Brugge if I can come a day later, and it seems they didn't have any problem.
Cindy guided me to the train station that was near her house. I bought a train ticket for 10 Euros.  In Brugge, my stay was confirmed by 2 hosts. Hilde and Filip. They both have been very nice to me so I decided to extend my stay and split it with both of them. Filip messaged me that he is coming at the train station to pick me. I went with Filip for my first 2 days. Hilde agreed to shift my date for the later 2 days.
Filip and Sabine's (Filip's wife) house was in the Centre and they lived their whole life in Brugge. Upon arrival they offered me very good coffee with Belgium Waffle, Then, Filip gave me a long tour of Brugge. It was very interesting to know the place from local's perspective. The walk was like travelling back in time to the world, which I was unknown to. We got back to his house in the evening where Filip has already called some guests for a get-together. He introduced me to everyone and over a few Belgium Beers, Classic wines and Belgium music, a celebration started. I cooked Aaloo ke paraathe, with butter and yoghurt for everyone. It was a wonderful evening.
Next day we went on a bicycle tour to the nearby countryside places. I felt so happy bicycling around the city.
Filip spent his whole 2 days with me. And it was really fun having him around.
My next 2 days were at Hilde's place, She lives close to Filip's house. I went to her house on the third day, There was one more Couch surfer, so we were a company of 3.  The room I was given has the best view of Brugge. I cooked something at her place. Though Hilde had a hectic day at work she welcomed me with all her heart and later showed me Brugge in the night, which was very beautiful, She told me about the first Bollywood movie shot in Brugge few years back was PK, she even gifted me something related to PK.
Country 3, Netherlands
My next stop was Amsterdam. I bought flixbus ticket for 18 Euro( ₹1419 approx) In the morning Filip has invited me over breakfast, my bus was in the afternoon. I spent half a day with him. and then walked to the bus station that was 20 minutes from there. My host in Amsterdam was an Indian guy (Shimjith) waiting for me in the evening at the bus stop. Shimjith has asked me to buy some spices and Basmati rice for him from India. Amsterdam was always there in my list because I have heard it is beautiful in autumns and is known as Cycle city or Tulip City. Both the things were in my fantasy list of driving bicycle in Amsterdam for a few days and working in the Tulip fields
Shimjith gave me his bicycle and guided me to the places I can visit. I was there for 3 days. On the very first day, I took a free walking tour of the Centre and paid 5 Euros to the tour guide. Then I just wandered around the town, went to Red Light area, Though I didn't go in but was excited to see that part as well. The world of Eroticism. After that, there was some Protest March against Global warming, Climatic changes & use of plastics. I joined those thousands of people and became a part of the rally. It was nice to see people getting aware in every part of the world telling the Government and the world to stop destroying nature as "Winters are not coming".
With Shimjith's bicycle, I went for a long drive about 25kms each way (approx. 52 kms). Though I didn't manage to find the Tulip fields but I figured out the Tulip market. And the next morning I was there in the biggest Tulip market I have seen. There were many people trying to set their shops. I told a gentleman that this was kind of my fantasy, I tried but was not able to find any Tulip field and will be thankful if he gives me a chance to work with him for a day.
The man agreed to give me work with some precautions about how to handle it, he gave me the rates of the Tulips of a particular section that I can sell for 2 Euros(₹157 approx) each and for selling each flower he will give me 20 cents. Here are 10 Reasons Why Amsterdam Should Be On Your Bucket List
Though it was not for the money I wanted to do that. That day I have sold quite a lot of Tulips, In the end, the owner didn't count anything, he was happy with my work and gave me 10 Euros(₹788 approx), I was excited to earn that and even more excited to live the Tulip life for a day.
All this time I was eating at Shimjith's house where he cooks his specialities and I cook mine. He was Bengali but like Aaloo ka paratha so I cook that for him, I am Punjabi but I love Bengali curry, he cooks that for me and we both share some beers and stories in the night. My next stop was Hamburg. I found an Indian host (Jaya Prakash) from Orissa now staying in Hamburg. I thanked Shimjith and took an overnight bus to Hamburg for 30 Euros.
Country 4, Germany
From the bus station, I took the metro for 2 Euros (₹157 approx) and reached Jaya's place. He was sleeping but opened the door for me and showed me my bed. I was tired and took a nap for a couple of hours. Firstly Jaya gave me a list about where to go, how to go and what to see but later he said 'Wait Ill come with you' and he showed me Hamburg and the very famous Port there. I took the full day metro pass for 6 Euros(₹473 approx).
I was confused for my next destination, should I go to Copenhagen which was there in my list, if I go there then I will do entire Scandivania or else my next option was to go south of Germany near Halle city and work as a workawayer for a week. The work that I have to do sound interesting. Here's The Ultimate 5 Day Guide To Traveling To Germany
A man named Eckehard bought some land in the countryside of Halle. In that land, there were ruins of Church which Eckehard decided to restore in its original form using all ancient techniques without using any kind of nail, metal or cement and make it into a Church cum townhall for the villagers. Initially, everyone called him mad but he started all by himself. I want to help him and learn how was he doing that.
For me, Copenhagen was not much excitement as by this time I have already seen a lot of beautiful fairytale places and canals. I knew Copenhagen is going to add me another country but not any new experience. I dropped a message to Eckehard and he said you can come tomorrow. Next day I took the Flixbus again for 18 Euros(₹1419 approx) to Halle. Eckehard said he will come to pick me at the bus station. My next 7 days were sorted.
I reached Halle and met Eckehard. We greeted each other. It was about half an hour drive to his place. Photos of his house and Church on work away from the site has got my attention. Seeing that, in reality, was even better than my expectation. He introduced me to some villagers. Later we had dinner together. Eckehard gave me a nice room in his house.
Work started the next day where I have to assist a carpenter cum Restorator (Andreas) who has been working on it for 2 years from the time it started. I was happy to be a part of this project. Andreas taught me how to restore old wood, how to make roof and flooring without using a single nail or metal.
Eckehard told me how he has restored and constructed walls without using cement. We were working from 9 in the morning till 12.30 in the afternoon and then after Lunch from 1 to 4. It was so much of a learning experience.
After a good restoration work every day I was cooking for Eckehard and his wonderful Family. They loved all Indian dishes I cooked, chole chaawal, Aaloo ke Paraathe and Yoghurt, pakode, Prawn Biryani, Aaloo Gobi and Paraathe. The Family was very hospitable to share their beautiful house and serve me with some real good wine, homemade cakes, German Food and introducing me to the villagers, their family and friends. Every day passed was a feast at Eckhards house.
From Halle I wanted to go and see Prague. I have sent a request to someone from Hare Krishna community there. The reason for me visiting them was also because I have heard so much about their Indian food, They accepted my request and invited me to come over. Eckehard dropped me at the bus stop.
 Country 5, Czech Republic
Halle to Prague bus cost me 25 Euros( ₹1971 approx). From Prague I have to take another train for 3.5 Euro to reach the place that was 60 kms away. One of the best and rememberable experience I had was reaching Hare Krishna community. First thing was, my Sim card will not work in Czech. So there is no communication with the Ashram. Then I have to change 4 trains from different platforms in a small-time difference and I do not know the Czech language. It's obvious that I will miss some connection of train somewhere & that happened in Praha Holesovice which was the main station. The train which I was about to take at 17.20. After that next train for my destination Mestecko U Benesova was after 2 hrs. If you too want to go here, then check out Exploring Czech Republic: The Complete Playlist
This time, fortunately, I didn't lose any connection but the thing I don't know was the train from Benesov U Prahy to Mestecko U Benesova will only stop when I press stop button, How the hell should I know where to stop the train.  I don't even know there is some kind of stop button inside. Anyways a lady helped me to get down at my station. Once the train left from there at 20.35, it was completely dark and there was no road and no person around me.I was in the middle of nowhere and don't know in the dark which way to go.
I followed a trail going between the trees with torch light of my mobile and walked for half an hour, when I saw the first house and light. I was happy to find that, Upon knocking the door, a 6 feet 6 inch man came out in an underwear. I asked him about Hare Krishna community. He said I am Christian not Krishna but I have seen those people sometimes, you go to the station cross it and on the other side of the station you will find another trail going down that leads you to your people. So I have to go back to the station with almost drained mobile battery. Saving the light of my mobile I started walking back in darkness, Somehow I reached the place where my host Madhusudan was waiting for me. He offered me dinner of poori sabzi dal chaawal and rabri. I was hungry and the food was delicious.
It was a group of 15-20 Krishna devotees who lives together and do organic farming there. They have a completely different schedule of going to bed early and wakes up at 3.30 in the morning.After hygiene, their different kind of prayers (mangal aarti) (Tulsi Aarti) and meditation (Jap) starts followed by breakfast, Bhagwad Geeta sessions and then services.
On the first day of my arrival because I have reached there very late almost most of the devotees were slept. Madhusudan was awake because of me. After dinner, he has given me a blanket, shown me my bed and told me that you don't have to get up early, we all will be doing our prayers together in the temple room which was just the next room from my bed. If you want to join you are welcome. Next day early morning, I joined their schedule of Prayers and that was a great experience for me.
I was there for 2 days only but I will go there back someday again. I was a part of them. It was a different life altogether. So much positivity, delicious food, wonderful people, very devotional & peaceful atmosphere.
Life was so good when we wake up at 3.30 AM, I never wanted to leave that world, but I have confirmation from Prague main city where I found another host. When I was leaving the place almost everyone has gifted me something.
An Indian guy (Ray) was my host in Prague. Fortunately, I found someone from Iscon going to the city who dropped me to the centre. Ray came to pick me with one of his friend Rahul. We went together to an Indian restaurant where I had Chole Bature, Daal Makhni and Lachcha Paratha. That was Ray's regular place where everyone knows him.
I bought a local sim for 14 euro for internet usage. Later at 5 PM, Ray had to rush for the restaurant. He was working as a Barman in a bar right in the Centre. The owner was a Punjabi guy (Honey) from Jalandhar and he treats Ray as his own brother.
Honey's family recently came over from Jalandhar and they invited me for lunch the next day. They treated me with good Punjabi food at home.
After lunch, Ray and Rahul showed me a very different and beautiful part of Prague.
The evening ended at Honey's bar with some more friends, Ludo, Punjabi songs and good food.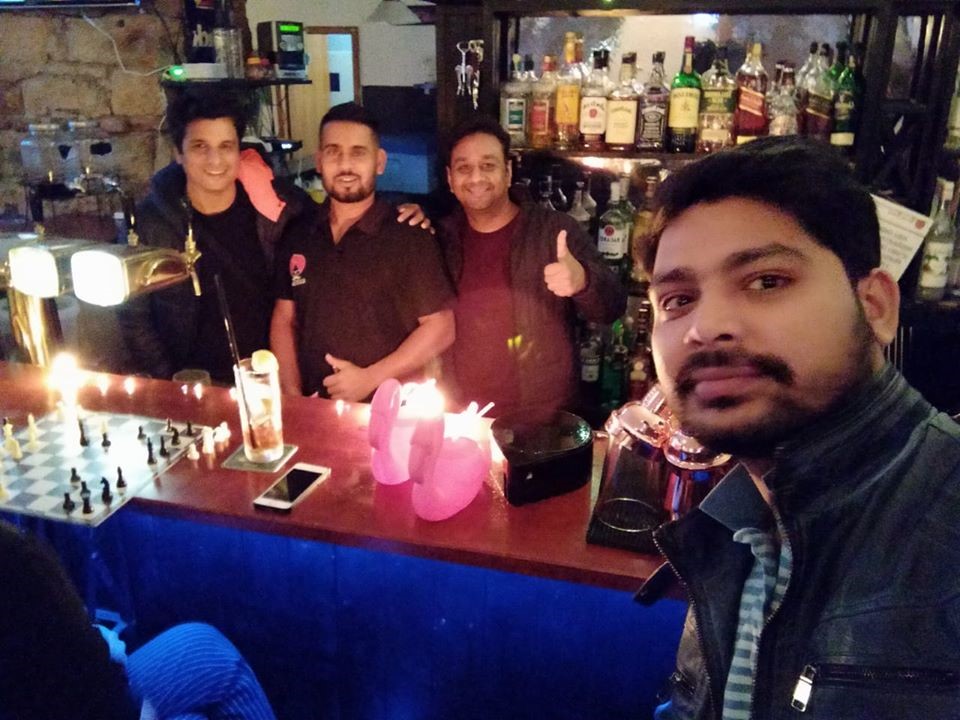 Next day Ray guided me to an Indian store to buy some grocery as I have forgotten all my spices and food bag in Halle. Eckehard messaged me, he will courier that anywhere I want but I myself don't know my schedule. I spent 26 Euros( ₹2050 approx) on grocery to save money on food later. My next stop Bratislava was an hour away by train.
 Country 6, The Slovakia Republic
I took a train for 9 Euros(₹709 approx) from Prague to Bratislava. I was having 2 hosts in Bratislava, Both were girls. Again I split my 2 days. Day 1 with my first host (Lucia) and the second day with another host, Anna.
Taking the tram for 3 Euros(₹236 approx) from Bratislava station, I reached Lucia's house in the evening. Lucia showed me my room which was nice, We didn't have much interaction as we both were tired. Next day she left early morning, we were not able to say goodbye. She kept breakfast for me and some other food items to carry. Lucia gave me her house keys to relax and whenever I want to leave she guided me how to lock the door and where to drop the keys.
I left Lucia's place around 10.00 AM and walked 7kms to the Centre. Bratislava is  beautiful city with lots of statues and many other good places to see.
I had a ball of a time, posing with the statues. They were magnetic and I found them to be quite fascinating.
My next host Anna lives close to the Centre. Anna took me out for coffee. There were so much to talk between us, we had long conversations that were mostly spiritual, Anna was about to attend Vipassana meditation, and she was want to my experience of doing that. We got along so well that we could have talked endlessly. Later I cooked Daal chaawal at her house. Next day we had done meditation together. Anna was kind, spiritual and a good human being. I wish to have spent more time with her but we both had our plans and my next host was waiting for me in Vienna.
Country 7,  Austria
I took the Regio jet bus for 5 Euros(₹394 approx) and reached Vienna in 40 minutes. My host (Bearnd) lives at walking distance from the bus stop, He showed me my room and offered me coffee and some breakfast. I wandered around nearby and clicked some pictures. It was all very beautiful, Vienna is known for its coffee and music.
The best traditional coffee I had already tried at Bearnd's house and the music concerts were completely free. You can see several bands outside the cathedral or in the Centre somewhere.
Bearnd was a traveller too and has used Couchsurfing as a surfer as well. He has done some crazy and inspiring travel in life. When he read in my profile about my walk for 1500 km in India.
He was interested in knowing my story. We both shared our travel stories and experiences over a couple of beers in the evening.
My wife Sheetal has asked me to buy some coffee from Vienna. Next day Bearnd guided me to get some good coffee. I bought one for 7 Euros(₹551 approx).
I was confused for my next destination again, My mind was juggling till I received the confirmation from Clelia in Salzburg. The bus ticket for Salzburg was quiet expensive. Luckily I found Bla Bla car for 13 Euros(₹1025 approx).At Clelia's place, a couple from Germany has dropped in a day before and was about to leave. It was raining outside. Before that they have plans to see Mozart's house which was turned into a museum, they asked me to join.
We walked through beautiful lanes of Salzburg with colourful trees, splendid houses, lock bridge with messages of love, crystal clean river, all surrounded by mountains.
The architecture here had an old-world charm to this place. The air was fresh, and the entire place looked so pristine.
Mozart's house entry fees were 25 Euros( ₹1971 approx)which was a lot so I didn't go with them inside though it was Clelia's friends who offered to pay for me. I told them to message me once they are out. Clelia gave me her umbrella so I can go around somewhere, I went to lock bridge reading the messages written on locks,
After 30 min they came out and we all went to a famous coffee shop. Clelia's friends left in the afternoon, I cooked Aaloo ke Parathe in the evening., She opened a wine bottle for us. Clelia has a dark and witty humour… we kept on talking till long.
Next day she took me for a walk to show some beautiful places. My 2 days at her house were rememberable. On the second day Clelia's friend Robert came and we too become good friends. I was not carrying any thick and warm clothes as after rain the weather forecast was showing a big drop in temperature. Robert gifted me a new overcoat. My bag was full and it was difficult to put that heavy coat in but I don't want to disappoint him.
During my stay there I also met (Jen) who has accepted my request to host me as I cannot stay with him, we met over coffee, he took me out for some local street food. Jen was a traveller and hiker. From here I found a Blab Bla car to Innsbruck for 10 Euros(₹788 approx)
My host at Innsbruck was Roland. Thomas and his 10-year-old son were the earlier couchsurfers who want to extend their stay. Father-son duo was on a road trip together, that's so cool. Roland told them to ask me first because that day he has confirmed me. I said that's fine, I don't have any problem.
Thomas will be cooking some of his speciality that night and he wants me to join. Before dinner, we went in his car for sightseeing.
The misty mountains, vibrant buildings with gorgeous architecture and lush greenery took my breath away. I just couldn't have enough of this city.
In the evening I went to one of my other host's house, her name is Matie and she had invited me over dinner. Maite was a rockstar and she played some really good songs for me. Thomas who was still awake wanted me to taste his food and that was super delicious. Next morning they left on their journey ahead. Later in the evening over food and Beers, Roland told me the story about his travel back in 90's when he left Vienna with 10 shillings in the pocket and travelled to several countries for 2 years.
Innsbruck was a fantastic place. I asked Roland if I can stay at his house for another night. He said ok but he was expecting a couple, He needs to ask them, they were hitchhiking and coming from Munich. And they agreed. On my third day there I wanted to do some trekking as the entire region was surrounded by glaciers and lots of trekking and hiking spots.
Going to the mountain and coming back was a good walk and an amazing experience.
Roland continued his travel story. The couple who visited Roland's house also joined us over food. My plan for the next day was to Munich. Jens my host in Munich who confirmed me. she said she will come to pick me because it was raining heavily in Munich.
 Country 8, Italy
When walking to the bus station I thought it will be an adventure if I hitchhike to Munich. I have to get out of the city first and touch the highway from where I can get a lift. It was not easy as it seems. I started following the google map in the direction of Munich to the nearest petrol pump where I tried to get some conveyance for a couple of hours but my bad luck that no one was going in that direction.
After some time I met a young couple (Steffie and David) in their campervan going to Padua in Venezia. I joined them in Venice. On my way, I messaged Jens in Munich that I got a lift to Venice. I told her sorry that I changed my route and felt bad as she told me that she had bought some gift for me. I apologized and promised that whenever I will be in Munich I will definitely drop to her place and will stay there for an extra day. Did you know Italy Ranked The Most Preferred Holiday Destination In The World
Then I was on my way to Italy. I shared some of my stories with the couple and they told how they fall in love and is now going around on a road trip in Europe. We stopped at a couple of beautiful places of Dolomite region. Steffie and David offered me to stay with them in Padua at their friend house. In the evening I was in Padua with some new friends, David's friend has already cooked some food for us. Next morning when I wake up I had the message from a girl named Mimi that she can host me in Venice in a hostel she owns.
David dropped me to Venice Tronchetta which was half an hour from Padua. Venice is so beautiful that you never want to leave the place. Mimi was right and her hostel was right in the Centre where accommodation is quite expensive. After reaching Tronchetta I came to know the other guests staying in the same hostel are paying around 35 Euros a day. I was lucky to get that for free. For dinner, I ate pizza for 5 euros(₹394 approx).
Next day I wandered around beautiful canals. In the evening there was a party at Mimi's house where I cooked Vegan food for everyone.
From the supermarket, I bought some veggies and other ingredients for 15 Euros(₹1182 approx). We had a wonderful time over some drinks and food.
After dinner, Mimi took us to a night club. Midnight we walked to the hostel all singing and dancing on the empty street. Mimi even allowed me to extend my stay for an extra day. She sent me a beautiful message next day thanking for the food. In the party, I met Daryl who has been living on a boat at a small island for last 5 years. He invited me to come and stay on his boat for as much time as I want. Living on boat sound fascinating to me.
My next day was with Daryl on his boat. He took me on a ferry to the island where his boat was parked.
Daryl told me winters are so cold sometimes that wind goes in your bones. But that's fine as he has chosen to live this life. Winter's is a part of nature. Before leaving I gifted the overcoat to Daryl which Robert from Salzburg has given me. I felt that the coat could be more beneficial for Daryl.
My next destination was Zurich where one of my best friend Saurabh's childhood friend Anshu has invited me. I checked the buses to Zurich going through Milan. I thought of spending a day in Milan. Recently Daryl sent me a voice message where he seems completely broken. He said in the recent flood at Venice his boat is completely damaged. A link was created by his friends to raise some funds for him. It's here 
I took Flixbus to Milan for 14 Euros which dropped me at Milan Lampugnano station at 10.50 am. My another bus from Milan to Zurich was at 6 PM I have the whole day to go around the Centre and see major attractions there. I walked from the bus station to the Centre which was 7 km each way. Though my plans initially were to stay in Milan for a couple of days, unfortunately, I did not find any host there.
 Country 9, Switzerland
In the evening I took the Regio bus to Zurich for 13 Euro. At 10.00 PM. Anshu came with one of his friend at the bus station to pick me. We went to one of his friend's house where there was kind of house party going on in a very Indian style with 10-15 Indian guys. Here are 5 Tips To Visit Switzerland On A Budget
Anshu was cooking some Rajasthani food, my favourite Daal Baati. There was so much of Indian snacks with drinks.
Late night we went to Anshu's house, where I met his wife Prishita, They had shown me my room, we talked for some time and later I went to sleep. Next day Anshu went to the office but he had plans to show me some places in the evening. The afternoon I went to the Centre and wandered around the market. I felt very comfortable, very homely at Anshu's house. Instead of going through the city too much I enjoyed seeing films "Sonu ke Titu ki Sweety and De de pyaar de" with them at home. Prishita helped me with the laundry that definitely solved a big problem for my further travel ahead from there.
After 2 days it was the time to move on for my next stop to Singen which was 30 minutes from Zurich. From the picture that was put on workaway site, I was sure that Singen is in my list. Even after shifting my dates to many times, they accepted me.
Country 9, Germany
I was in touch with Jenny who confirmed me as workawayer. I took the bus for 7 Euros (₹551 approx) from Zurich to Singen. Bea from the community came to pick me at the bus stop. We have to go to a countryside village name Tengen from there. It's time to stop at one place for a week and do some work.
They are a group of people who bought 9.5-hectare land in the countryside of Germany near Switzerland border and created their own paradise here. Different people who didn't know each other join hands including their families and decided to live together in harmony with nature far away from the country life and rat race.
Now they all live like one Family here, support each other, have food together, and grow and develop their place together with all the natural sources. I was lucky to meet these wonderful people and to work with them.
I was cooking there for 15-20 people every day. The food was all organic which they grow themself. There were many kinds of salad leaves, different varieties of Tomatoes, Squash, Brinjal, Potatoes, Garlic, turmeric, Onions, Paprika's, and a lot more, Even the dairy products were all fresh, they have a big stock of fresh food with everything properly labelled and stored.
The community has been kind enough to offer me their bike if I wanted to go around somewhere. The surroundings nearby were breathtaking.
The surrounding looked too good to be true. A brook flowing, autumn-like atmosphere and whatnot. It almost resembled a desktop wallpaper. It was that good.
The work I was doing there includes cooking, cleaning, gardening, woods for winter. The week was gone fast and it was the day to leave for my final destination. Frankfurt… from where I have to take my flight back to Mumbai, do some shopping and spend some time with my 2 hosts. I travelled to Frankfurt by train for 18 Euro. Bea dropped me to the train station
Doro was my host in Frankfurt for 2 days. She lives near Centre on 6th Floor. I rang the bell. A voice came ' Is that Goldie'. I said Yes. She said wait Ill come down to open the gate. I met her and she was speaking in Hindi, "Aapka swagat hai. I was surprised. No, she was not Indian nor have any roots here.
Her daughter came to India once to work for some N.G.O. She was in Vadodara for a few months, during that time Doro visited her for a month with her husband. Before coming to India she went to learn some Hindi and she speaks so correctly. "Aap yahaan paani bhar sakte hai, Frankfurt mei paani bahut saaf aata hai". She gave me her daughters room who was now working in Hamburg. Doro hosted me because she was in love with India and was about to make a trip to India soon. There are lots of pictures in her house from her time in India. Even the room she gave me has a big poster of Incredible India.
Staying at Doro's place was incredible. For food sometimes I was cooking, sometimes she cooks and pack some sandwich or snacks for me for the day. In between, I met another girl who confirmed to host me, though I couldn't stay at her place we met and she showed me Frankfurt.
I ended my tour on 52nd day and left Europe with many beautiful memories and friends which will remain with me forever and that was my true wealth. A Life worth living. A very famous quote and a philosophy which I follow. Go somewhere, Just go, Travel, Fill your life with adventures and have stories to tell not stuff to show. Stay alive, live in the present and enjoy every moment to the fullest.
Budget For My Europe Trip
Now that you know about my trip to 18 cities, 9 countries in Europe in 52 days. Let me tell you about how I managed my budget. The accommodating during my trip was absolutely free since I stayed with the locals. I was carrying my own water from home and was refilling my water bottle along the way. When it comes to food, most of the time, I was cooking at my host's place. I carried most of the spices, Besan and Rice from India which cost me ₹1000 approximately. Most of the ingredients were available at my host's place. Like Potato, Tomato, Oil, Onion, Rice, Lentil, Coffee and some veggies I found almost everywhere. My flights cost me around ₹51,000. Transport around Europe amounted to ₹17,000. I did dine out a few times, which cost me around ₹6000, the souvenirs I bought there were about ₹5600 and my total expenses amounted to around ₹80,000.
This article was contributed to Curly Tales by Goldie Duggal. If you have an article or similar experience to share, do write to us on hey@curlytales.com